Congratulations to the 2018 Master of Science in Real Estate Cohort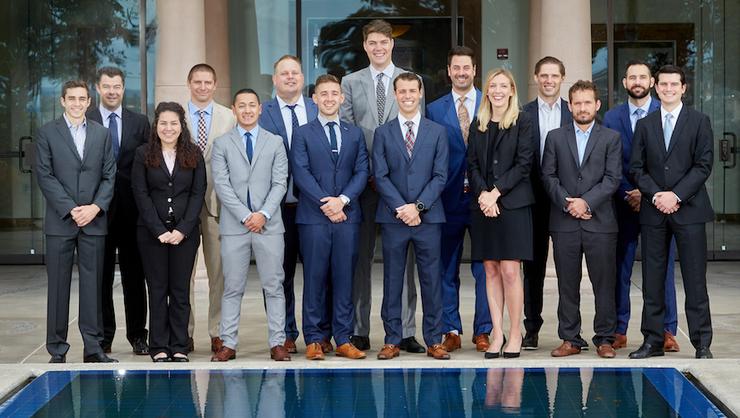 The University of San Diego School of Business and the Burnham-Moores Center for Real Estate congratulate the Master of Science in Real Estate (MSRE) class of 2018.
Some unique facts about this class include:
A love for traveling and experiencing the outdoors by foot, bicycle, car sailboat or plane
Backgrounds ranging from long-term military careers to small business owners to engineers
Hobbies in music, parenting (both toddlers and teenagers), producing commercials and volunteering within the community
Post-graduation jobs at: Brixmore, Port of San Diego, KirE Builders Inc, REEF Point Real Estate Investment Sales, CBRE - Singapore and Sentre Partners.
The 11 part-time MSRE students, who began the program with the 2018 cohort, will return in the fall to graduate with the 2019 class.

"We look forward to welcoming the 2019 cohort in the fall, and anticipate approximately 16 full-time and six part-time graduate students joining the program," says Ashley Adams, community outreach and recruitment manager for the MSRE program. "These incoming graduate students bring an exciting mix of backgrounds and experiences. We will have four international students from across the globe, two students earning JD/MSRE dual degrees, one student earring an MBA/MSRE dual degree and a number of seasoned real estate professionals which will make for an exciting, well-rounded class."

For more information on the University of San Diego School of Business Master of Science in Real Estate program, contact Ashley Adams at (619) 260-8803.
Map
5998 Alcalá Park
San Diego, CA 92110