Jack Turner '18 Awarded The Daniel B. Woodruff Memorial Scholarship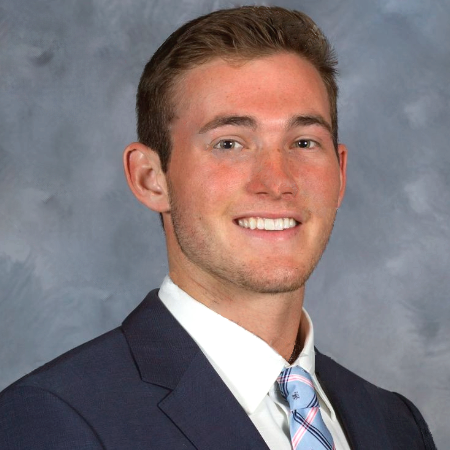 In April, Jack Turner '18 was awarded the Daniel B. Woodruff Memorial Scholarship. This award honors an exceptional real estate student who exhibits academic excellence and intellectual curiosity. The scholarship is given to the student who best epitomizes Daniel (Dan) Woodruff's '98 positive qualities of academic excellence, warmth, determination, intellectual curiosity and unabashed love for humankind. There is no application for this scholarship. Jack graduates from USD in May with a double major in finance and real estate from the School of Business.
As a student at USD, Jack held a variety of internships. He served as a corporate partnership intern for the Los Angeles Rams, handling market research, lead generation and contract analysis. He also served as an acquisitions intern for Quadrant Acquisitions, LLC in Littleton, CO where he completed $50 million worth of acquisitions. Jack was the team leader for two undergraduate competitions: the NAIOP University Challenge (a real estate competition) and the CFA Institute Research Challenge (a finance real estate competition).
"​I had Jack as a student in several of my classes and was able to confer with other faculty members and students about him," says Stath Karras, executive director of the Burnham-Moores Center for Real Estate. "The unanimous feedback I received was that Jack is a caring and thoughtful person, a good communicator, incredibly bright and articulate, and a natural leader — the same traits exhibited by Dan Woodruff. Jack was a natural selection as our 2018 Woodruff Scholarship recipient. He will be warmly welcomed by past fellow Woodruff winners."
Dan Woodruff served in the U.S. Navy from 1992-96. He earned his undergraduate degree with emphases in economics and finance from the University of San Diego School of Business. His passion was real estate finance, an outgrowth of his self-directed studies of derivative securities, including mortgage-backed securities. Dan was awarded numerous scholarships and was recognized repeatedly for his academic excellence and leadership at USD. On campus, among other activities, he served as president of the Intercollegiate Business Policy Competition Team, one of the toughest challenges in the School of Business, and as president of the USD Chapter of Toastmasters.
What set Dan apart from his peers, however, was his extraordinary intellectual curiosity and sophistication, his maturity and warm personal style, and his tremendous capacity for friendships, for reaching out to others and for love. Dan was an inspiration to his family and to all who knew him. After graduating from USD, he accepted a position in secondary marketing at one of the nation's largest independent mortgage banking firms. However, within months he was diagnosed with cancer, a battle he fought with incredible determination and spirit for almost two years. While Dan never had a chance to become part of the older generation, he was wise beyond his years.
From a diary Dan maintained throughout his life's journey, he shared the following: "Looking at where I am now, solidifies that we need to live for the 'now,' to take advantage of what we have, not take it for granted. Nothing is granted. It is all a blessing, all we have, all we feel, all we see." Dan was told of the Center's decision to create this scholarship as a permanent memorial to his life about four weeks before he died. He was overwhelmed with emotion and gratitude.
"Daniel Woodruff demonstrated character traits including academic excellence, warmth, determination, and intellectual curiosity, but most importantly, he exhibited immense respect and love for humankind," says Turner '18. "I am incredibly honored to be associated with Daniel's legacy and will continue to cultivate the love for humanity that Daniel embodied."
Map
5998 Alcalá Park
San Diego, CA 92110