Eighth Annual NAIOP University Challenge Recap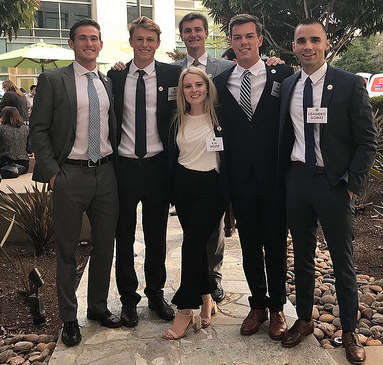 On April 25, a team of University of San Diego School of Business undergraduate real estate students participated in the Eighth Annual NAIOP University Challenge. The USD team went head-to-head against teams from the University of California San Diego and San Diego State University. The competition comprised three parts: a written report submitted to the judges; a rigorous Q&A session before the judges; and a presentation on April 25 before NAIOP members and the real estate community.
The USD team, comprised of Casey Engleman '19, Lisandro Gomez '18, Sam Hansen '18, Kiki House '18, Parker Schultz '18 and Jack Turner '18, presented before more than 300 NAIOP members and commercial real estate industry leaders for the final third leg of the competition. While the USD team did exceptionally well, San Diego State University took first place this year. USD took first place in 2017.
"The NAIOP University Challenge was a great experience all around," says Turner. "Our team was able to gain the knowledge from industry professionals, develop technical skills, and most importantly, develop meaningful relationships by working toward a shared vision. Overall, our team approached the challenge as an opportunity to learn the development process, but we learned so much more. We gained practical leadership skills, effective team building and conflict management skills and the ability to translate our innovative ideas into real possibilities through research and analysis."
View the USD team's development plan and presentation.
Map
5998 Alcalá Park
San Diego, CA 92110