Burnham-Moores Center for Real Estate Welcomes New Policy Advisory Board Members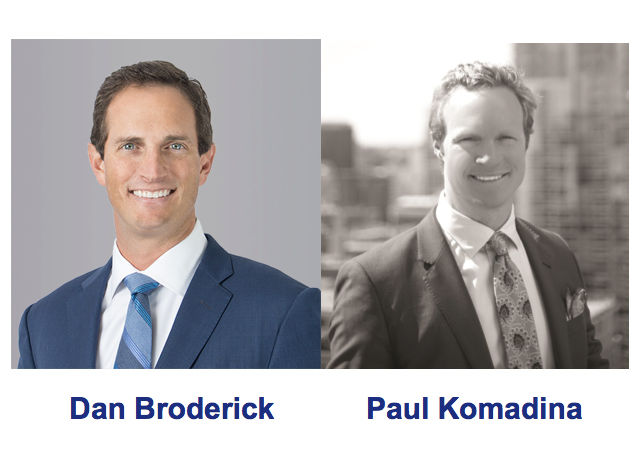 The Burnham-Moores Center for Real Estate welcomes Dan Broderick and Paul Komadina as its newest members to its Policy Advisory Board (PAB). The PAB provides policy guidance and financial support to the Center and real estate students at the University of San Diego School of Business.
"We are thrilled to have Dan and Paul join our distinguished Board," says Stath Karras, executive director of the Burnham-Moores Center for Real Estate. "Including San Diego senior leadership from two global real estate companies is a great addition to our Policy Advisory Board, and having Paul join us as a USD alumni is particularly special for us."
Dan Broderick is the regional managing principal for Cushman & Wakefield. He leads all service lines for the Southwestern Region of Cushman & Wakefield, comprised of more than 550 professionals, in 10 offices. Dan is responsible for client engagement, revenue growth, developing, training, managing, coaching and transacting with brokers and staff throughout the region. Additionally, he is a leader within the National Institutional Investor Services team and works with a number of strategic accounts. Dan is also the executive sponsor for the National Single Tenant Triple Net Investment Group. He is primarily responsible for the day-to-day leadership and management of the San Diego market, with more than 250 professionals in five facilities. Prior to Cushman & Wakefield, Dan was the president and CEO of BRE Commercial, where he led the firm through two sales and two mergers. Prior to BRE, Dan was an investment sales broker at Eastdil Secured, and has transacted more than eight billion dollars in investment sales across Southern California, Arizona and Texas. Dan is affiliated with the Young President's Organization (YPO), San Diego; the Stanford Professionals in Real Estate (SPIRE); and the Urban Land Institute (ULI).
Paul Komadina '05 is the managing director of the San Diego region for CBRE. He oversees the owner and investor business which includes investor leasing of all product types, investment properties, and debt and structured finance. Paul is responsible for coordination of CBRE professionals across multiple business lines to build maximum advantage for CBRE's clients. He focuses on ensuring that each and every client receives all the benefit of CBRE's unique and unparalleled full-service platform. Prior to his role as managing director, Paul was a co-leader of the CBRE San Diego Investment Properties Group (formerly PCG) where he excelled in the sales of office and industrial assets throughout San Diego County. During his tenure as a sales professional, Paul received numerous awards including the CBRE San Diego Rookie of the Year award and a national leadership award from the CBRE Investment Properties Group. Paul attended the University of San Diego and graduated with a Bachelor of Science in business administration with an emphasis in finance and real estate.
Map
5998 Alcalá Park
San Diego, CA 92110