New Sustainable Real Estate Handbook is Published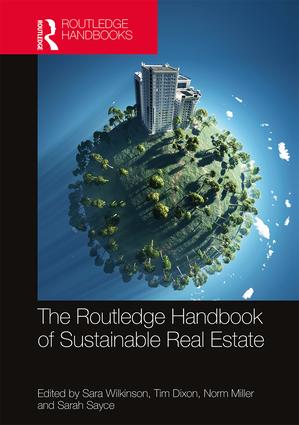 A new book, , geared for universities and the real estate industry was released in March 2018. The book was authored by Sara Wilkinson, Tim Dixon and Norm Miller, Hahn Chair of Real Estate Finance at the University of San Diego School of Business and affiliated with the The book will be used by several universities.
The Routledge Handbook of Sustainable Real Estate brings together the latest research of leading academics globally, demonstrating the nature and extent of the impact as well as suggesting means of mitigating humankind's impact and building resilience. Four sections examine the different aspects of sustainable real estate:
governance and policy
valuation, investment and finance
management
redevelopment and adaptation.
Covering all land uses from residential to commercial, retail and industrial, the Routledge Handbook of Sustainable Real Estate is an exciting mixture of received wisdom and emerging ideas and approaches from both the developed and developing world. Academics, upper-level students and researchers will find this book an essential guide to the very best of sustainable real estate research.
Map
5998 Alcalá Park
San Diego, CA 92110