Social Responsibility Wins USD's "Shark Tank"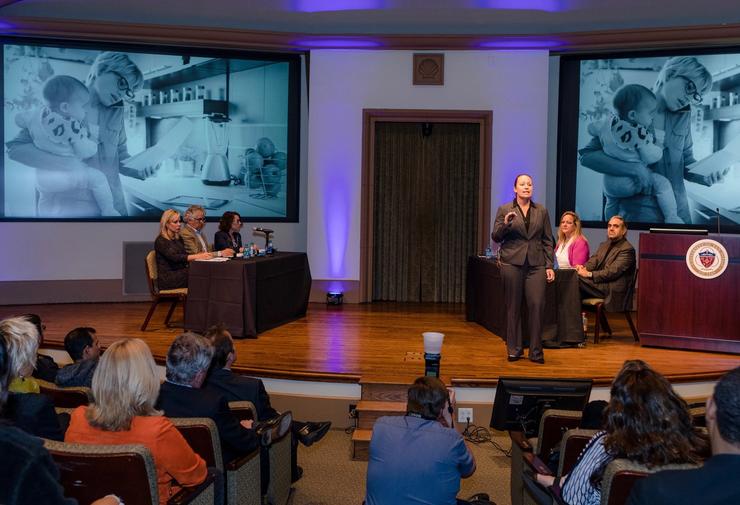 begin quote

This network is our most important asset. We may not have all of the answers -- but it gives us confidence to know that through USD we're connected to someone who does.
Janaira Quigley and Anna Kenneally are two trailblazing, female entrepreneurs studying in the Master of Science in Global Leadership (MSGL) program. They crossed paths when working together on course projects and soon realized that by combining their passions and diverse business strengths, they could compete for funding to launch a company that would create good in the world. After participating in workshops and seeking advice from professors and centers within USD, they pitched their startup idea "Generations" to a group of investors during the 7th annual V2 Pitch Competition, a "shark tank" for USD student startups. Generations, a company that aims to improve the quality of life of two underserved populations -- stay-at-home parents and society's seniors -- took home the biggest prize in this year's competition: $19,000. Find out how the resources at USD helped guide Janaira and Anna towards success.
Life Before USD's MSGL Program
Janaira: Before returning to the University of San Diego School of Business for my Master's degree, I had a career for almost twenty years. I was a Director of Training and Operations in multiple industries, including the medical, construction/design, and restaurant industries. I am also a mother of two and wanted to set a good example for my sons by pursuing graduate education. I knew that I couldn't take my career to the next level without an advanced degree.
Anna: Since completing my undergraduate degree at USD, I have been working in the accounting and biotech industries here in San Diego, in addition to working as a marketing consultant for startup to medium-sized businesses. In 2016, I founded Leftovers of Love, a successful nonprofit committed to sustainably ending hunger and food waste in the San Diego community.
Looking to Maximize Impact
Janaira: I always knew I wanted to run my own company and believed that pursuing a graduate education would be instrumental in helping me achieve this. I chose USD's MSGL program because its curriculum combined all three of my loves: entrepreneurship, global leadership, and executive level training.
Anna: In order to take my career and nonprofit to the next level, I needed the executive level management training of a master's program, but I wanted one that reaches beyond the bottom line to inspire innovative practices and solutions in our increasingly globalized business landscape. I was able to find all of these elements in USD's MSGL Program.
Utilizing USD's Network to Develop a Business
Janaira & Anna: The best part about USD is the network that we are creating. To launch "Generations", we have received guidance and coaching from multiple professors and staff. The dean of the School of Business, Dean Gomez, offered to meet with us and provided high level consulting. He also connected us with the Legal Clinic and Professor Amit Kakkad's Social Innovation Development Team. The Legal Clinic helped us draft non-disclosure agreements, liability waivers, and trademarking and partnership agreements. Without this help, legal fees could have cost us thousands, or put us out of business if not handled correctly.
Professor of Accounting and Taxation, Thomas Dalton, helped us with our business setup. Entrepreneurship Manager, Regina Bernal, and Center for Peace & Commerce Assistant Director, Rachel Christenson, helped us access resources by providing coaches and mentors, as well as design thinking and business model creation workshops. Professor of Communications Bob Schoultz brought us in to his personal Toastmasters and Rotary meetings to practice our presentation skills. We ran through our pitches with Associate Professor of Business Ethics Tara Salinas and were coached by Jonathan Irwin and Mysty Rusk from the Small Business Development Center (SBDC). They not only gave us feedback on our performance, but on our business elements as well. The SBDC also connected us with USD alum who were web developers, and built our funding models for a reduced rate. Furthermore, we received personal coaching from a Chief Strategy Officer and Chief Operating Officer through the V2 Pitch workshops, with whom we are still receiving business mentoring. This network is our most important asset. We may not have all of the answers -- but it gives us confidence to know that through USD we're connected to someone who does.
What Inspired "Generations"
Janaira: I was inspired to create Generations when I was delivering food for Meals on Wheels. I noticed that the homebound seniors were more interested in interacting with the people coming to their home than the actual food that was being delivered. From this, I saw an opportunity to reallocate resources from food delivery to offering services and companionship, so that a more meaningful interaction could be created. Our vision is for Generations is to become a household name, synonymous with quality care and teaching our children the value of caring for elders in the community. By the time my mobility is limited, I expect to utilize Generations to meet my needs.
Social Responsibility as a Business Tenet
Janaira & Anna: Generations is a web-based service platform. Stay-at-home parents can post their services (shopping trips, rides to the doctor, meals in the home, etc.) to the website and seniors access the website to schedule these services. Our company helps solve two problems: it allows stay-at-home parents to build a business and earn an additional income, while providing essential caretaking and companionship services to the underserved senior population.
Building Momentum with the V2 Pitch Competition
Janaira & Anna: We will use the $19,000 we won from the V2 Pitch Competition to build our website, which is the platform that will enable us to launch Generations! We plan to conduct a soft launch in July by piloting our concept with one "community." A community consists of 100 seniors and 25 families to serve them, located within a small geographic area. This community will be a microcosm of the company once we scale. Once we have worked out the kinks and streamlined the operation, our goal is to open one community per month in the first full year.
In addition to being able to launch our business because of the seed funding received from the V2 Pitch Competition, we also need to mention the impact the MSGL program has had on our business. We have learned many business skills that will help us successfully manage our company. More importantly, the MSGL program has taught us leadership and change management skills that will be necessary to scale this organization.
Advice for Future Entrepreneurs at USD
Janaira & Anna: To students competing in the V2 Pitch Competition in the future, know that you get out of it what you put into it. Take advantage of the workshops, coaching sessions and relationships that are made during the process. The competition forces you to build a business model, consider revenue streams, market segments, distribution channels, key partners and key resources. Our key pieces of advice are to test your assumptions and and get your elevator pitch down! You have to know what you are assuming about your market and test if people will actually utilize your product or service -- you learn so much from trial and error. Keep the verbiage of your company's value proposition focused. We had to explain our idea daily utilizing a tagline, 30-second or 90-second pitch, depending on the circumstance. Also, project your ideas with confidence! Then elicit help from your USD network- because you don't know what you don't know.
Map
5998 Alcalá Park
San Diego, CA 92110