Businesswoman of Impact: Caitlin Teno '18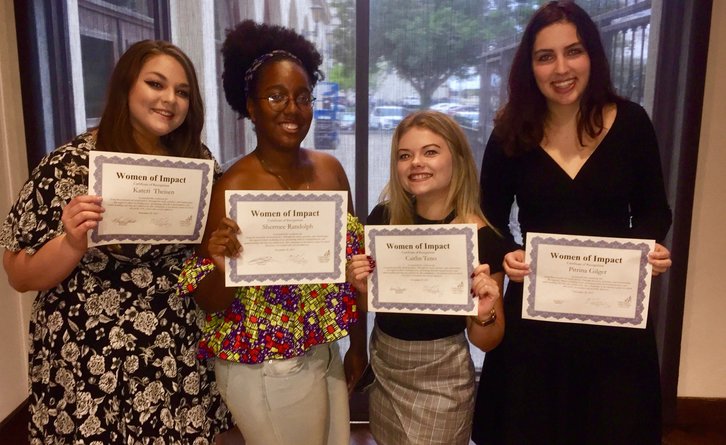 begin quote

The USD School of Business has given me a lot of confidence in my thoughts and ideas, especially as an intern.
With a major in marketing and a minor in leadership, Caitlin Teno '18 is a well known fearless leader in the USD community. Teno's resume is brimming with extra curricular activities like President of USD's Torero Program Board (TPB), Marketing Intern for USD's Athletic Association and Team Manager for the Football and Basketball teams, and to top it all off, she was recently recognized by USD as a Woman of Impact. Between all of these commitments, Teno has little to no free time. But she doesn't mind.
As president of TPB, a branch of Associated Students that coordinates programs and events for the University of San Diego, Teno is an impassioned leader of a staff of students. TPB programming ranges from educational events, sporting events, to live entertainment, guest speakers and concerts. Through her time on TPB, Teno has been able to apply the skills learned in her School of Business courses to be a successful leader in this position.
"One important thing that I've been able to implement as President of TPB, is from my Marketing Research course," says Teno. "Through that course, I was able to understand the importance of data collection and getting feedback. It's been so fun to do research and surveys to help make our programming better for USD students."
Through what Teno has learned in her business courses, she has been able to also perfect her skills in time management, communication and networking. Because of these skills, TPB's programming is better than ever and will only continue to improve.
Besides being president of TPB, Teno is also the Operations Assistant as well as a Marketing Intern for the USD athletic association. These positions have required Teno to create more dynamic social media posts, brainstorm giveaway ideas for students in order to increase attendance at athletics events and conceptualize event details like seating, tickets, and food to enhance the student experience.
"Through these roles, I've learned that it's a lot of trial and error," says Teno. "Often times we see what works and what doesn't work and then re-strategize from there. The USD School of Business has given me a lot of confidence in my thoughts and ideas, especially as an intern. It's helped me realize that all the pieces of an organization play an equal role in the success of the whole. It wouldn't run successfully if we were missing one of them."
As if three jobs weren't enough to keep her busy, Teno also has a minor in Leadership Studies. An individual obsessed with leadership and active social change, it's no surprise that Teno finished her minor in just two years. Despite her finished minor, she still strives to be an effective leader and a changemaker.
"I love the idea of creating a positive impact on our community," says Teno. "I work very closely with the Changemaker Hub on campus, and the most important thing we do is to have real conversations about what we can change together."
By working with TPB alongside the Changemaker Hub, Teno and her team have created multiple programs on campus that integrate the Linda Vista community with our own by inviting community members to participate in campus activities, creating awareness of multicultural practices and events, as well as making USD's campus more environmentally sustainable through the recycling and compost initiatives at the SLP.
As her time here at USD comes to an end, Teno reflects on her last four years here and the lessons she has learned from the school of business.
"The things that I've grown to appreciate in the School of Business, are the prerequisite courses like Accounting, Finance and Economics," says Teno. "As challenging as these courses were, they not only taught me lessons from the real world, but to persevere through anything that's given to you. Now that I'm graduating, I feel confident in my abilities to make decisions in real world business situations. Although I'm sad to be leaving, I'm thankful for the amazing faculty and USD's community that have prepared me for life after graduation."
Map
5998 Alcalá Park
San Diego, CA 92110