From 'Yes Man' to Serial Entrepreneur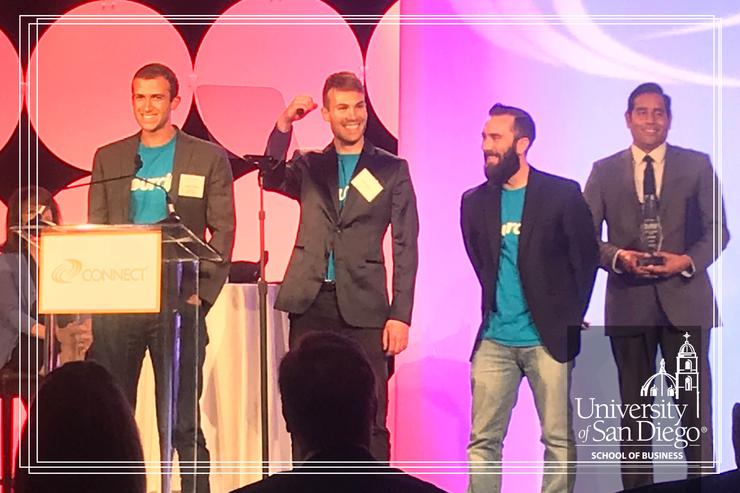 begin quote

The 1% that take action are the ones you'll read about in the news. Be that 1% by realizing everyone has the same 24 hours in a day.
University of San Diego School of Business alumnus, Nathan Resnick '16 has become a powerhouse in the entrepreneurship community. Only a few years after graduation, Resnick's company Sourcify won Connect's Most Innovative Product Award at the end of 2017. Resnick, the youngest entrepreneur ever nominated for the award, was more than happy to be brushing shoulders with some of San Diego's most prestigious innovators. Inspired by this life changing experience, Resnick reflected on Sourcify's success and future moving forward. "Receiving this award enables us to showcase the amazing work my team has been doing at Sourcify and we couldn't be more thankful to everyone who continues to support us", says Nathan. "Sourcify is growing like crazy. We're receiving more manufacturing requests than we can manage and we're focusing on building an even more robust product to manage this demand. Our goal is to make it faster and more effective for any company to manufacture products around the world."
Coming off this distinguished award, Sourcify was accepted into YCombinator, the world's leading startup incubator. Sourcify will now be sharing the same investors as billion dollar startups Airbnb and Dropbox. "We now have access to an unbelievable community. For us, this means spearheading growth and getting the right insight when needed," says Resnick.
Reflecting on his experience at USD, his involvement in the Entrepreneurship Club on campus are some of his fondest memories. "On a weekly basis, the Entrepreneurship Club provided me with insight to start and grow my own business", says Resnick. "My favorite memory has to be the V2 competition. This opportunity is very special to USD and enabled me to showcase the business I had been running at the time." Still feeling very connected to the USD community and it's plethora of entrepreneurial spirit, Resnick offers sage advice to current students deliberating about whether or not to launch their own venture.
"Start now", says Resnick. "I know it sounds cheesy but there is no reason to wait. You'll probably read this and make up an excuse. Fine. The 1% that take action are the ones you'll read about in the news. Be that 1% by realizing everyone has the same 24 hours in a day-- you all sleep, eat, attend class, and do homework. That may take up a good portion of your day but sure doesn't fill up all your time."
The support USD School of Business receives, helps provide opportunities like the Entrepreneurship Club and the V2 Pitch Competition to students like Nathan. The important skills entrepreneurship students like Resnick learn on campus, continually infiltrate our own communities with new ideas that ignite the spark to change the world.
Nathan Resnick is the CEO of Sourcify, a platform that makes manufacturing easy. Previously, Nathan brought dozens of products to market, ran three e-commerce companies including Yes Man Watches and Cork Supply, and led projects on Kickstarter that raised over seven figures. He writes for media outlets such as Entrepreneur, The Next Web, and Business.com. Nathan also used to live in China and speaks Mandarin.
Map
5998 Alcalá Park
San Diego, CA 92110