USD Schools Announce Creation of Small Business Development Center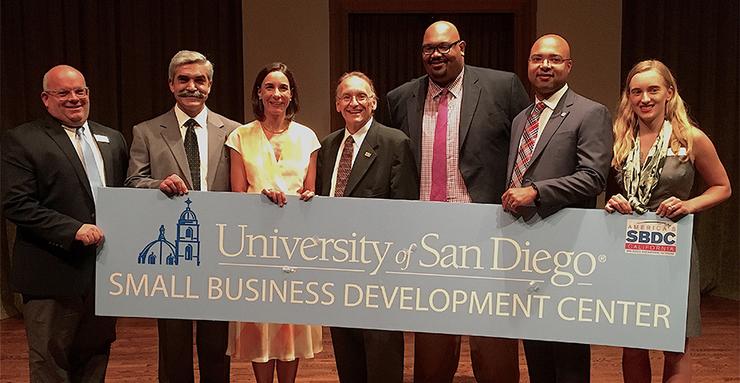 The city of San Diego is brimming with innovation — ideas, people, businesses — and a healthy passion for all things entrepreneurial. The University of San Diego, an institution that offers its students various resources, programs and opportunities to enhance their own innovative aspirations, has enhanced its stature by creating a new center to be a resource for all of San Diego County.
The university announced on Sept. 11 the creation of a Small Business Development Center (SBDC) that will be hosted on campus and as a partnership between four USD academic schools, the U.S. Small Business Administration and the San Diego and Imperial SBDC Regional Network.
The center will provide no-cost services and opportunities for both start-ups and established technology-oriented companies in San Diego County. Services include general business consulting, technology consulting, training programs, networking and support resources, mentoring programs, funding and financing consultation, and community events.
The University of San Diego engages and partners with its communities as a proactive agent in sustainable and innovation-driven economic growth and social prosperity. Its mission is grounded in offering students the training, mentorship, and mindset development needed to launch successful businesses and social enterprises both locally and around the world. Through a multi-disciplinary joint effort by USD's School of Business, Professional and Continuing Education (PCE), Joan B. Kroc School of Peace Studies, and the Shiley-Marcos School of Engineering, the SBDC aims to further innovation and the sustainable economic development of the community.
"We are about to start a very promising and very ambitious plan," said Jaime Alonso Gomez, dean of USD's School of Business, about the new center. "It is the explicit commitment of the University of San Diego to work together, learn together and build futures together with the San Diego community. It can materialize new wealth creation, new employment creation, new technology being launched into the market and new capital infusion."
For more than 40 years, USD's PCE has been a source for educating and assisting the San Diego community's working adult student population. PCE Dean, Jason Lemon, PhD, is excited about the SBDC's arrival and looks forward to "bringing Professional and Continuing Education's community engagement and contemporary learning resources to bear in our effort to launch and grow the center."
Erik Caldwell, director of economic development for the City of San Diego, expressed support for the new center, especially because of its focus on supporting early-stage companies.
"Fundamentally put, we're talking about creating the next big opportunity in San Diego and when you think about where the growth is at in our economy, today and historically, early-stage companies are front and center." Caldwell said. "The word is out that San Diego is a hotbed for early-stage companies and early-stage innovation. We're excited to have another player that's focused in an area of great need."
Michael Vallante, a regional administrator for U.S. Small Business Administration's Region IX, said, "Small business is the backbone of our nation's economy and the center for job creation and global competitiveness and innovation. The opening of this SBDC at the University of San Diego means there's another resource to support San Diego's dynamic business community."
The new center's arrival — which does not yet have a physical space on campus — made one student, Colby Bishop, a senior electrical engineering major and business administration minor, quite happy. Bishop, who is also president of the USD Entrepreneurship Club, believes the center is an important step forward for the university and for supporting and connecting with students.
"It's the best thing for us, it's absolutely wonderful," he said. "The mission of the Entrepreneurship Club when it was formed was to bring like-minded individuals together from all of the different schools. To see this center happening at USD is truly incredible."
Bishop said he and other engineering students are currently working on innovative projects. He hopes to utilize the center as a "great learning resource to further our education on the entrepreneurial side," as well as to ask business finance-oriented questions and attend future workshops.
Establishing the center at USD gives the San Diego and Imperial SBDC Network its fourth venue in the county. The local network is hosted by the Southwestern Community College District. Network services are provided by the South San Diego SBDC Center in National City, Calif., the North San Diego SBDC Center in Oceanside, Calif., and the Imperial Valley SBDC Center in El Centro, Calif.
"I like to say that at the SBDC we're dream makers; businesses come to us with a dream. It just so happens that the dream we're creating today is for businesses who are starting innovation-based companies and want to take it to the next level," said Marquise Jackson, regional director of the San Diego and Imperial Regional Network.
Through its SBDC connection, the University of San Diego can help more local Changemakers realize their aspirations for success.
"We're enthusiastic and we're committed to partnering with the Small Business Administration to create and build, together, sustainable futures," Gomez said.
— Ryan T. Blystone
Phone
Phone: (619) 260-4830

Map
Olin Hall
5998 Alcalá Park
San Diego, CA 92110