Grand Opening for Small Business Development Center on Sept. 11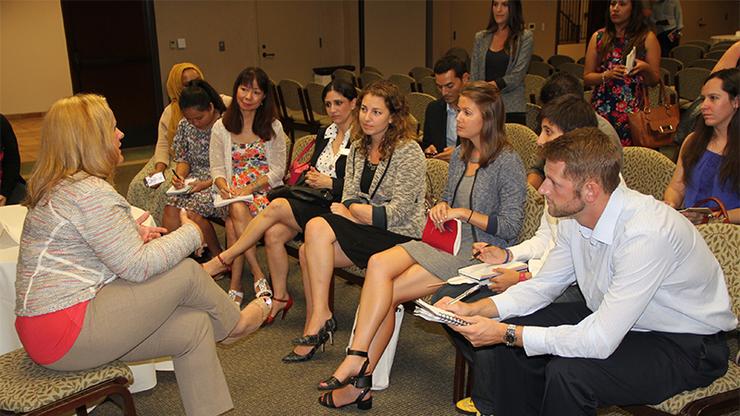 Furthering innovation and sustainable economic development of the regional economy is the goal of a new Small Business Development Center (SBDC) at the University of San Diego. Michael A. Vallante, Regional IX Administrator for the U.S. Small Business Administration will speak at the grand opening for the Center on Monday, Sept. 11 at 1:00 p.m. in the Kroc Institute for Peace & Justice Theatre and the public is invited to attend. RSVP here to attend the free event.
"We are proud to launch the center to serve small businesses and entrepreneurs in San Diego," said Dr. Jaime Alonso Gómez, dean of the USD School of Business. "This will be an exciting multi-disciplinary effort among USD's School of Business, Joan B. Kroc School of Peace Studies, Shiley-Marcos School of Engineering, and Division of Professional and Continuing Education."
USD faculty members, collaborating organizations, and other professionals will serve as mentors and technical experts for both start-ups and established technology-oriented companies, offering consulting on general business matters, financing and technology. The center also will offer programs and events for mentoring, networking and training.
"The University of San Diego will be a great asset to innovation-focused small businesses and entrepreneurs in the region as the host for the Small Business Development Center," said Marquise Jackson, Regional Director of the San Diego and Imperial SBCD Network. "This partnership will allow the SBDC Network to continue to promote entrepreneurship and create a thriving, globally competitive ecosystem here in San Diego."
The new center is part of USD's mission to engage and partner with its communities as a proactive agent in generating sustainable and innovation-driven economic growth and social prosperity, while offering both students and the community the training, mentorship and mindset needed to launch successful businesses and social enterprises, both locally and around the world.
The University of San Diego SBDC is part of the San Diego and Imperial SBDC Network and led by the regional office at Southwestern College. For more information, visit http://www.sdivsbdc.org/ or contact Karolina Rzadkowolska at karolinarz@sandiego.edu or 619-260-7539.
Phone
Phone: (619) 260-4830

Map
Olin Hall
5998 Alcalá Park
San Diego, CA 92110