Grad Puts Best Foot Forward with Patara Shoes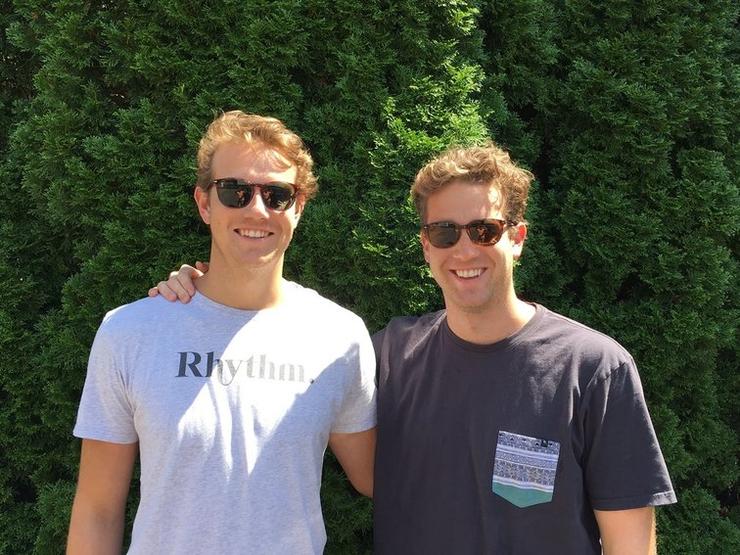 There are elephants in Christian Rosier's living room. In fact, the walls of his San Diego apartment are lined with shoeboxes each bearing the image of an elephant and a single word, Patara. In Thai, Patara means "good fortune," and the contents of the boxes are shaping the karma of Rosier's first business venture. Indeed, the casual, comfy, handmade footwear has already carried him on an impressive journey since his graduation from USD in 2014.
For the 25-year-old finance major the steps to CEO and business co-founder began with the desire to travel and collaborate with his younger brother, Kilian. Spending the summer after graduation in Thailand, the two were drawn to the customary hand-woven footwear they saw in the markets there. Although they had no experience in the fashion industry, they had fun brainstorming a business idea together. "We thought it would be cool if we could intertwine the heritage and fabrics we saw in Thailand into a free form shoe," Christian says. "It was a way for my brother and I to have a project together."
The brothers returned to the States and set about designing comfortable, versatile shoes that could go "from beach to bar." The Rosiers took inspiration from the handmade, vibrantly patterned Thai fabrics, combined with contemporary comfort features, such as padded insoles and rubberized soles.
Six months and a few manufacturing setbacks and prototypes later, the brothers had a shoe design but no one to make them. They almost let the idea drop but the feedback Christian received kept him going. "Every time I'd wear them, I'd get compliments," he says. "So the idea got reignited."
The brothers talked up their idea to anyone who was interested. Eventually, a family friend from Thailand introduced the Rosiers to Thai weaving collectives and a family-run factory there that could manufacture the shoes in keeping with their vision.
Christian also tapped into the talents of USD friends to provide photography and publicity resources for Patara's website and video. This support of Patara gave him confidence to continue the venture and take the risks necessary to succeed. "During my time at USD I was lucky to make some amazing friends from all over the country," he says. "I couldn't have done this without those connections and their expertise."
Encouraged by a friend with a successful Kickstarter campaign, he decided to raise capital through online crowdsourcing. He set an ambitious goal of $25,000. "We had to set the tone and believe in our goal. We couldn't set it low and play it safe."
The risk paid off. Not only was the campaign successful, the Rosiers met their goal in less than eight days and ultimately raised more than $75,000. Feedback from Kickstarter supporters also informed development of the shoe line and inspired other potential products. They hope to eventually expand to include belts, bags and other woven items.
Among his goals for expansion, Christian plans to support the Patara mascot. "On our trip to Thailand we went to an elephant sanctuary and they really inspired us," he says. "We want to find a way to give back to the elephants."
Ultimately, he and his brother have created a fair trade brand that helps sustain communities in the developing world. They hope their shoes will bring good fortune to all the lives they touch -- from the artisans who weave the fabrics, to the family factory workers who cut, shape and construct their footwear in Thailand, to the customers around the world who now wear Patara shoes.
Phone
Phone: (619) 260-4830

Map
Olin Hall
5998 Alcalá Park
San Diego, CA 92110