The (Not-So) Mad Man
Kenneth Bates, Associate Professor of Marketing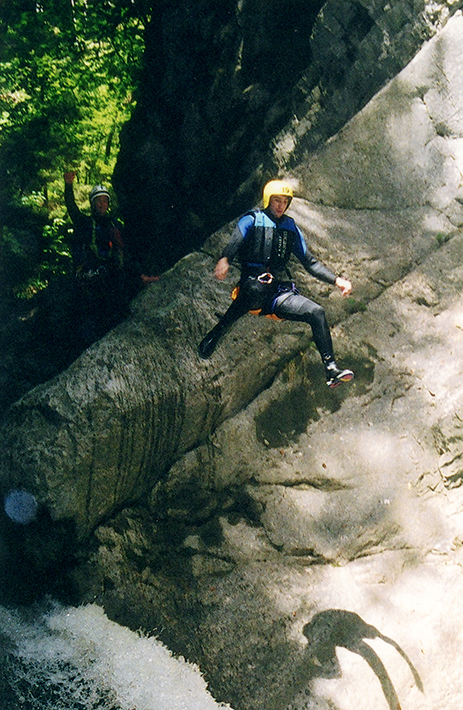 begin quote

"The only way to truly understand any phenomenon or tackle any problem is to look at it through as many different lenses as possible.
For Kenny Bates, associate professor of marketing, standing on the edge of a canyon in Switzerland, poised to jump is just part of the journey. Without hesitation, whether in the mountains, inside the classroom or on Madison Avenue, this self-proclaimed adrenaline junkie consistently takes the plunge—and then gets ready to go again.
Bates' moxie is matched by his inquisitive nature. Since arriving on USD campus in 2009, he's applied his fascination with sociology, psychology and consumer behavior to develop a multi-method approach for his classes. At every turn, he encourages students to explore how consumers interpret the world.
"The only way to truly understand any phenomenon or tackle any problem is to look at it through as many different lenses as possible," he says. "You have to think about other people's perspectives, because in marketing perception is reality."
Diving into phenomenal experience.
Sometimes, his multi-faceted approach requires Bates to step away from the classroom to gather insight.
In 2015, he spent the summer at Ogilvy & Mather in Manhattan. The agency tapped into Bates' consumer research expertise to help them win new business. Meanwhile, he gained perspective on the inner workings of the global ad agency to share with his students back in San Diego.
For MBA students in Bates' international consulting class, travel is required to study marketing in international locales. On their recent trip to Shanghai, students worked alongside Chinese marketers at a major international footwear brand, immersing themselves in the culture to learn its values and norms. "It's a phenomenal experience to encounter marketing challenges with people of different backgrounds," Bates says. "We're exposing the students to very intense, real situations."
Exploring consumer behavior.
In the classroom, imparting empathy and contextual analysis can be a challenge, but that's exactly what Bates strives to do for his consumer behavior class. To help students step outside themselves and into the hearts and minds of consumer segments, he teaches psychology and surveying techniques, alongside qualitative research methods and ethnography.
Using these techniques, students develop a product or service that appeals to their targeted audience. "They spend weeks learning to be those people," he says. "Through the socialization process, they learn what it's like to be a member of that subculture."
Bates' fascination with the process of consumer decision-making led him to research subjects such as nutritional marketing and mortality salience. He authored articles on consumer regret, the impact of calorie information on meal purchases and the motivations of recreational risk takers — a topic he knows from personal experience. In turn, he imparts this passion for understanding to his students.
"What matters most to me is that my students leave with a multi-method perspective to analyze the world," he says. "I want them to see past their own biases and understand other perspectives, whatever they might be."
Although canyon jumping is not part of his curriculum, Bates inspires students to challenge their assumptions and leap beyond their comfort zones.
Phone
Phone: (619) 260-4830

Map
Olin Hall
5998 Alcalá Park
San Diego, CA 92110