The Business World Tour Guide
Daniel Lin, Assistant Professor of Operations Management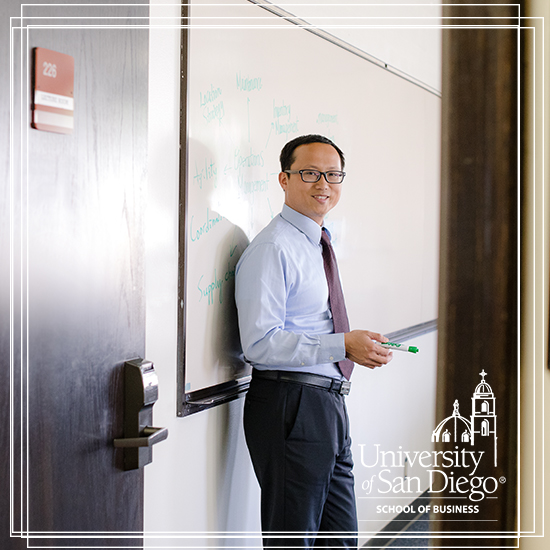 begin quote

"We're a very student-centric university with a simple goal: to provide the best experience and outcome for all our students. I take that to heart."
Daniel Lin's ideal classroom doesn't contain white boards or desks. And he doesn't teach from a standardized text. Instead, the 30-year-old assistant professor of decision science in the University of San Diego School of Business creates relatable lessons based on what's happening in the business world beyond the San Diego campus
The freedom to craft unique learning experiences was one of the reasons Lin came to USD in 2011. "USD encourages every faculty member to explore the most effective way of teaching," he says. "We're a very student-centric university with a simple goal: to provide the best experience and outcome for all our students. I take that to heart."
"We're a very student-centric university with a simple goal: to provide the best experience and outcome for all our students. I take that to heart."
Designing the 360 experience.
Lin's passion for his work is evident as he thoughtfully creates what he calls "closed loop" education. His students study business practices in class, and then travel to a factory or business location to experience the practice in person. "I want to provide my students with active and experiential learning as much as possible," he says. "That's why I engage practitioners, real projects or simulations in class. I can provide them with basic tools, but they learn the most when they actually do it."
One of Lin's favorite teaching venues is Taylor Guitars, a global manufacturer of premium acoustic guitars headquartered in El Cajon, about 20 miles east of the USD campus. Amid the hum of power sanders, laser presses and drills, students discover the ins and outs of supply chain management. While on the tour, they're invited to discuss subjects like risk management, outsourcing and vertical integration.
From there, they are given the chance to explore the implications of the operation through a case study. Finally, Lin brings in guest speakers from various aspects of manufacturing so students can discuss and test their theories against real-world outcomes.
Inspired to succeed.
Lin's MBA students work on consulting projects for businesses with whom he has cultivated relationships—such as local shipping company FBAforward and even the on-campus USD Recycling Center. The companies share their operational challenges and invite students to brainstorm potential solutions.
Beyond an academic exercise, the hands-on practice of solving actual business challenges provides tangible experience that students can use on their resumes. In fact, some of Lin's former students now work in operations for Taylor Guitars.
With the ever-shifting landscape of global manufacturing and marketing paradigms, the bridge that Lin creates between academia and industry experts provides plenty of relevant lessons for his students. Ultimately, his approach aims to inspire and prepare them for careers in business management. "When my students interview for jobs, they can confidently address actual problems they've seen problems in the supply chain," he says. "I find it so rewarding to help them succeed."
Phone
Phone: (619) 260-4830

Map
Olin Hall
5998 Alcalá Park
San Diego, CA 92110