Getting Ahead of the Game
Sarah Goh '20 BBA (Business Economics)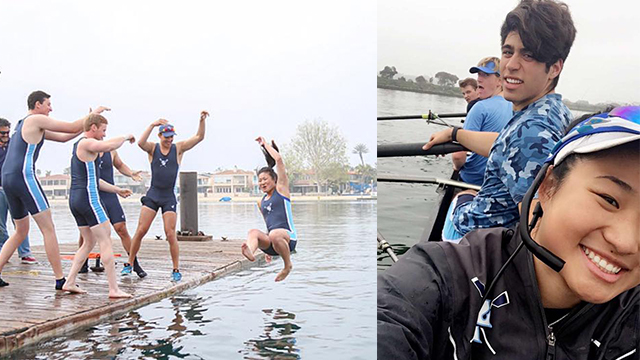 Seeing her future career through a sports lens makes sense for Minnesota native Sarah Goh '20 (Business Economics, who was on the rowing team at her high school and came to USD with the intention of joining crew. Early on in her freshmen year, she realized she'd be both more valuable and more competitive if she switched to the men's team—which she did, as a coxswain, and since then, she's translated that skill set into a game plan for her studies at USD and beyond.
"Rowing is hard to learn and appreciate," says Goh. "My role is a combination of interpreting technical feedback, steering, translating the coaches orders and making game changing calls. It's highly competitive, and I love it."
This knowledge base complemented her love of patterns, gained through playing violin for 16 years, which helped her hone the ability to predict what comes next. With the mindset of always looking ahead and preparing for next steps, Goh recently accepted two internship offers—a rarity for someone just completing freshmen year.
Her first internship will take her to her parents' birthplace, Singapore, for six weeks where she will work in the data analytics department of Smart AHC, using technology to predict the breeding cycle of pigs. After she returns to San Diego, she spend the 2017-18 academic year working for Q2 Insights in Encinitas, California, conducting marketing research as a project analyst.
"Data is super powerful," says Goh. "If you analyze it, you can decrease mistakes and make smart business decisions. This seems like a great fit for my future."
Not always decisive—she didn't commit to USD until three days before Decision Day—Goh has found herself growing more confident while on campus. And when she saw that many internship opportunities require experience, she knew lining some up early on would help her get ahead of the game.
"A lot of times, freshmen year can be overwhelming," she says. "But for me, it's important to stay focused, learn who I am as a person and keep building toward my future goals. I'm happy with the decisions I've made. I want to stay passion-driven in everything I do."
Phone
Phone: (619) 260-4830

Map
Olin Hall
5998 Alcalá Park
San Diego, CA 92110