Sophomore Earns GEICO Achievement Award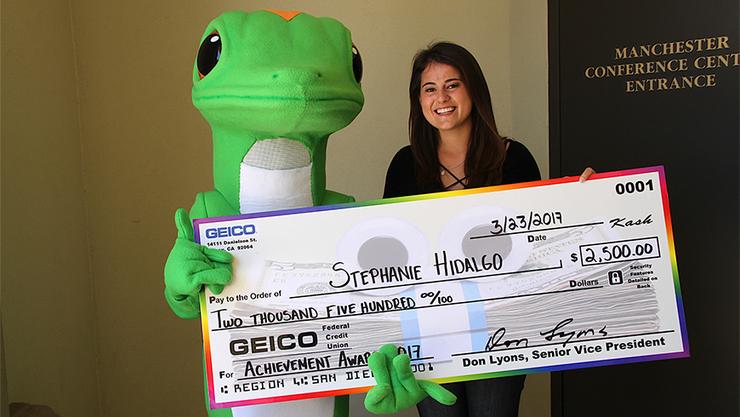 Stephanie Hidalgo, a sophomore accounting major and leadership minor, was celebrated in a fun ceremony Thursday for winning a $2,500 GEICO Achievement Award for outstanding accomplishments inside the classroom, around campus and in the local community.
Hidalgo, who is from Los Alamitos, Calif., was one of only two students from California to receive the award. She filled out an application and wrote an essay that GEICO's Carmen Gutierrez Sandoval, who was on hand for Thursday's celebration, said was a pleasure to review.
"Her essay represented everything that GEICO is looking for; someone who gives back to their community, someone who takes other people into consideration, someone who is inclusive and not just seeking their own improvement and stays humble throughout the process," she said.
Hidalgo fulfilled the humble aspect, too, saying that she was eager to apply, but thought winning the award "would be a longshot" given GEICO's national reach and that it would be a competitive scholarship. Hidalgo, though, certainly fit the criteria for the award.
To be eligible for the GEICO Achievement Award Program, students must be currently enrolled full-time in a bachelor's degree program at an accredited four-year college or university, possess sophomore or junior status, have at least a 3.0 overall GPA, and be majoring in business, computer science, mathematics or a related program.
Hidalgo, in addition to her academic pursuits, makes a difference on campus and in the community. She just recently declared her major in accounting and she's already co-instructing an Emerging Leaders course with Watanabe. A student worker in University Ministry, she's also in the Torero Ambassadors' Club, she gives campus tours to prospective students and their parents and plays USD intramural soccer.
Off campus, through USD's Karen and Tom Mulvaney Center for Community, Awareness and Social Action, she works with a local nonprofit college-readiness program for refugee students known as YALLA (Youth and Leaders Living Actively). Based in El Cajon, the organization utilizes competitive soccer as a bridge to have them attend the academy to get them caught up academically. Hidalgo said she participates in YALLA's Soccer Sundays, which means she supports and plays with the students all while build relationships and having fun.
"The Achievement Awards program is a GEICO tradition that we are proud to uphold in support of outstanding undergraduate students across the country," said Bill Roberts, GEICO president and chief operating officer. "Each one of this year's recipients has proven that they have what it takes to be among the next generation of great leaders. We look forward to seeing them continue to succeed in their futures and careers."
Hidalgo was presented with an oversized check by the company's gecko mascot in a fun ceremony hosted by the Career Development Center on the Manchester Hall back patio. Hidalgo was joined by her parents, grandparents, School of Leadership and Education Sciences Instructor and doctoral student Ryosuke Watanabe and several student friends from campus.
Also among her colleagues was University Ministry Executive Assistant Aleisha Garrido, who Hidalgo thanked for writing her a letter of recommendation for the scholarship application.
Winning the GEICO Achievement Award, Hidalgo said, provides additional motivation to continue her desire to be a leader for social change and help others. "This is a form of encouragement and affirmation for me. It inspires me to continue. I plan to stay involved, on and off campus. I'm really excited about community engagement."
— Ryan T. Blystone
Phone
Phone: (619) 260-4830

Map
Olin Hall
5998 Alcalá Park
San Diego, CA 92110