Business Alumni Share Insights on Innovation, Creativity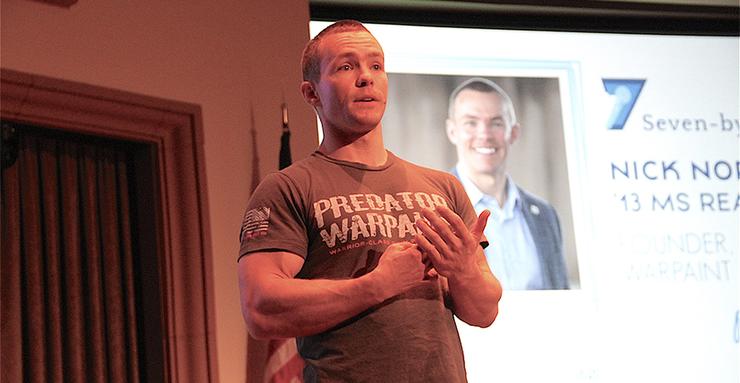 Seven University of San Diego School of Business alumni shared their respective stories of innovation and creativity, provided insight and, at its conclusion, inspired many to consider ways to create their own pathway.
"Anyone can be creative," said Jennifer Mueller, PhD, associate professor of management in the business school and author of the book, Creative Change: Why We Resist it ... How to Embrace It. "There's a drive to create, a need to be distinctive. We take pride in ourselves and we have a drive to be curious."
Being creative provides genuine happiness, Mueller said, but her research indicates that creative ideas are more often than not rejected by company leaders. The rejection is taken personally and it can stifle further creativity. The key, though, is to persevere, embrace creativity and stay positive.
That's where USD business alumni speakers Felena Hanson '95 (BBA), Bryan Carpenter '07 (BBA, BAcc), Eileen Williams '82 (BBA), Cara Cerutti-Holmes '10 (MSGL), Trevor Jensen '08 (MSRE), Brittany Rothnem '14 (MBA) and Nick Norris '13 (MSRE) demonstrated some reassurance. They talked about their passion, overcoming obstacles, found a successful path, even if it is a bit unconventional. The bottom line is it makes sense to them and they are happy.
Felena Hanson, Hera Hub Founder
Hanson's goal with Hera Hub, a spa-inspired shared workspace and community for female entrepreneurs needing a productive, professional place to work, is to help 20,000 women launch and grow their businesses by 2020. She has three San Diego locations and is expanding nationally and internationally.
She's successful because she tapped into the research. A study on men and women who apply for jobs revealed that men applied for jobs even if they're only 60 percent qualified. Women, however, only applied for jobs if they're 100 percent qualified. Another study indicated that women have an external locus of control while men have an internal locus of control.
"Women were afraid to put themselves out there and fail. Women are more fearful of being laughed at," she said.
Hanson, the daughter of entrepreneurial-minded parents whom she said "went against the grain a lot," gave her a foundation for entrepreneurship. She got her degree from USD and later, an MBA at Cal State Dominguez Hills. Just over five years ago, she invested her time and money into Hera Hub. She implores women not to worry about what they can't control, to know they control their destiny, be resilient, truly believe in themselves and dare greatly.
Bryan Carpenter, The Craft Beer CPA
Carpenter, the self-proclaimed "Craft Beer CPA," found greater life fulfillment when he decided to build his life not just through his accounting career, but instead around three passions —relationships with family and friends, being outdoor in nature and craft beer.
Today, he's an audit manager for Levitzacks, he has an official education certificate in the business of craft beer and is treasurer of the San Diego Brewers Guild. In April, he and a friend plan to launch a fundraising campaign for Hammocraft LLC, which enables users to relax in hammocks while floating on water via a unique framing/flotation structure.
Carpenter said he leaves work at work and plans one new adventure each month to have something to look forward to. He then finished his talk asking the audience to consider answering two questions: What are your passions in life? What can you do to incorporate them into your life goals for the future?
Eileen Williams, Nu Skin Enterprises, Platinum Team Elite Executive
Williams joined the family business after graduation from USD, moved to corporate human resources, but left in 1990 to grow Nu Skin Enterprises where she's helped grow the business internationally (it is sold in 54 countries) and she's a platinum team elite executive. But her success as a businesswoman came alongside a desire to "have it all." She's a mother of three, married for 35 years and the business continues to thrive.
Her advice for success includes being open-minded, following your intuition, perseverance and, of course, what sets everything in motion: "Dream big, so big that you don't even know how you're going to do it today. Something that inspires you, something that's personal to you. We're given this gift from the Almighty and we're supposed to honor it. Remember to dream and go for it."
Cara Cerutti-Holmes, Smarter Garter Founder
Cerutti-Holmes, founder of Smarter Garter is a hands-free modular purse capable of being worn nine different ways. She left her job as a financial analyst supporting the Department of Defense, becoming a mother to two children, currently ages 3 and 5. Her entrepreneurial spirit shines when she talks about how she does it.
"I haven't slept in five years," she said. "I've built this (business) between their nap times and after bedtime."
Cerutti-Holmes credits passion, perseverance and patience as her formula for success. USA Today endorsed Smarter Garter and Harley-Davidson and 23 countries have the product, too. She continues to grow the business where she can and she's not deterred.
"Passion is the mother of everything we do. When you believe in it, that's the tenacity to persevere when all you want to do is quit. At the end of the day, I'm patient with it. I'm going to build the business to what I want it to be, so it's going to happen."
Trevor Jensen, Bullibone CEO
Jensen's life changed when he was a pedestrian, walking his dog, and was in a hit-and-run car accident just days after receiving his real estate master's degree at USD. His dog, Naraku, was with him during the accident. Jensen ran two successful commercial real estate businesses, but the accident shifted his career focus and outlook on life.
"When you have a near-death experience, you start questioning everything in your life," he said. He went back to real estate for a while, but one day he sat down and examined what he'd want to do if there were no limitations. His checklist was to work with dogs all day, lead a team and be an entrepreneur.
When a second person was hit in the same intersection — and died — Jensen decided to put his passion into action. PupProtectors, LED-light collars and leashes for dogs for better vision at night, was born, but it didn't last. Not long after that he got a call from the founder of PetSmart to start Pet Industry Experts, but 1½ years later, it, too, fizzled for him. Jensen's networking and knowledge in the pet industry did help. He's the CEO of Bullibone, a company that produces quality long-lasting nylon dog chews.
"Today, I'm working with dogs all day, I'm leading the team of my dreams and I'm working for myself as an entrepreneur," Jensen said. "It took a traumatic event for me to sit down and define what my dream life looked like. I encourage everyone to do it because if you don't, you'll never know if you're on the right path."
Brittany Rothnem, Rothnem Integrated Marketing Owner
Rothnem went from working at a biotech company in San Diego to following her boss to a new opportunity in Irvine, Calif., all while earning her MBA at USD. Commuting from Orange County the last year was draining.
But near the very end of the program, she learned her company was abruptly shutting down. She finished her MBA without a job, but the final class, a study abroad trip to Rio de Janeiro, Brazil, inspired her because she learned from entrepreneurs who had started organizations and were solving problems. She returned to the U.S., but her job search wasn't inspiring.
A friend suggested she consider starting her own business. Rothnem, at first, balked, citing uncertainty and the risk. The friend retorted, "all of that certainty you wanted in your last job fell through." Rothnem said the friend had a point. Slowly, but surely, she's building a client list with her own integrated marketing company. As she continues to grow, she's able to offer advice to others considering a similar path.
"Embrace uncertainty, challenge what you 'should' do and get out of your own way and don't put limits on yourself. Ask yourself what's limiting you from doing what you want?"
Nick Norris, Predator Warpaint CEO and Founder
A former Navy SEAL, Norris these days is the CEO and founder of a next-generation sun care product called Predator Warpaint, a camouflage face paint that provides superior skin protection for military, hunters and active athletes. The colors don't run, provide SPF 50 protection and is water resistant.
Being associated with a top-notch product line fits Norris well. That, along with his role as president of The Irving Group, which serves the real estate needs of clients, both fall in line with who Norris is as a person. Norris is obsessed with reputation, something he calls his greatest asset.
His desire to work with and be around people of quality is something he truly values, as seen both during his combat military tours of Afghanistan and Iraq, and what he sought when he returned in 2010 to mentor and guide young Navy SEALs at the program's finishing school.
"I saw a tenacity to win, loyalty to each other, determination, and the ability to accept and embrace accountability," Norris said of his fellow SEALS while in combat.
As an entrepreneur, Norris' own experiences and his reputation give Predator Warpaint a respect factor, too. He's got personal experience with camouflage face paint and wants to make the best possible product for the customer and providing a viable solution that's as honorable as him.
— Ryan T. Blystone
Phone
Phone: (619) 260-4830

Map
Olin Hall
5998 Alcalá Park
San Diego, CA 92110