Burnham-Moores Center for Real Estate Hosts 21st Annual Real Estate Conference
Featured Speakers Include Arthur B. Laffer and Spencer Levy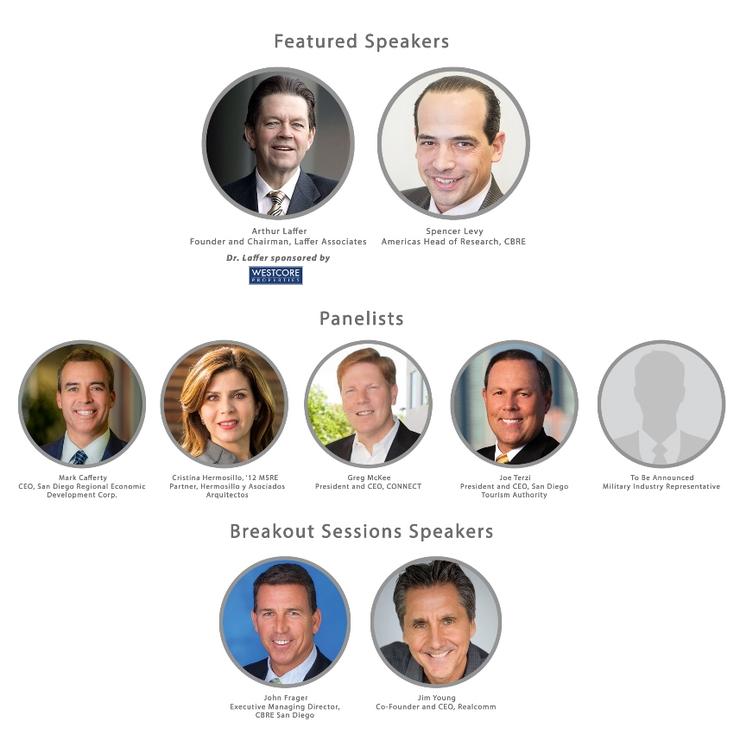 The Burnham-Moores Center for Real Estate in the University of San Diego's School of Business will host its 21th Annual Real Estate Conference on March 2, 2017, at the San Diego Marriott Marquis & Marina from 7 a.m.–noon. This signature event, which attracts more than 600 senior real estate executives annually, will highlight global and national economic real estate trends.
The conference will commence with two featured speakers: Arthur B. Laffer, internationally renowned economist and founder and chairman of Laffer Associates, will address California's future under President Trump and Governor Brown; and Spencer Levy, Americas head of research for CBRE, who will focus on global and national real estate trends.
Following Laffer and Levy, a panel led by Mark Cafferty, CEO of San Diego Regional Economic Development, will address job creation and economic trends that will impact San Diego's real estate.
Two breakout sessions will follow the panel. John Frager, executive managing director of CBRE San Diego, will host a session titled "Disruption: The Trends Reshaping San Diego's Built Environment." The second session will feature Jim Young, co-founder and CEO of Realcomm. Young's topic is "Reaching New Heights in Commercial and Corporate Real Estate Innovation."
General registration for the event, which includes breakfast, costs $195. For more information, contact Kimberly Malasky, director of communications and marketing for the BMC, at kmalasky@sandiego.edu, or Diane Ice, events manager, at dice@sandiego.edu.
About the Burnham-Moores Center for Real Estate
As a Center of Excellence within the University of San Diego School of Business, the mission of the Burnham-Moores Center for Real Estate is to help recruit, educate and mentor real estate students with the goal of facilitating their career pursuits in a socially responsible manner and with a global perspective. We accomplish this mission through support of outstanding faculty and professional staff, dedicated career services, active industry involvement and outreach and relevant and applied research. Visit our website for more information.
Map
5998 Alcalá Park
San Diego, CA 92110