The Unexpected Leader
Dima Ghawi '04 MBA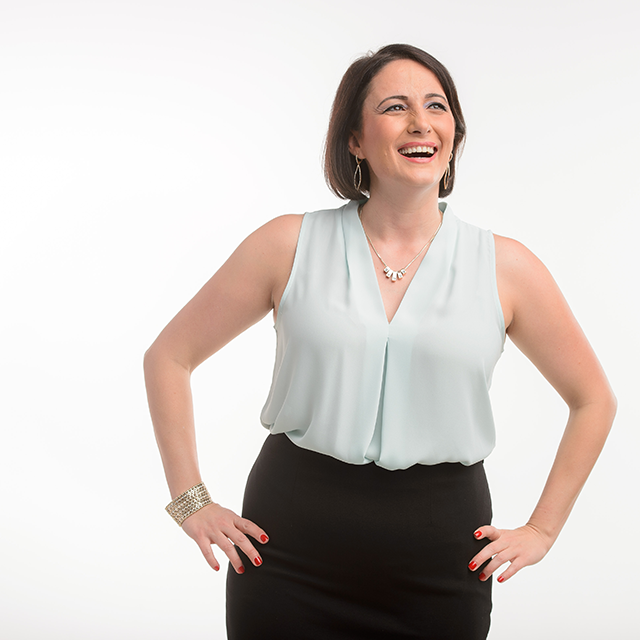 begin quote

"Education was the only thing that could save me."
Dima Ghawi wasn't your typical MBA student. When she enrolled in the USD program, she was quiet and shy—the simple act of talking to new people made her blush. In no way did she see herself as a leader or influencer. In fact, she was pursuing an MBA in an effort to discover her identity and develop her self-worth.
Considering where she had come from, this wasn't exactly surprising. Growing up in Jordan, her life was suppressed, silenced, and micromanaged by the culture and her family. After getting married, she was told she must obey her controlling Jordanian husband, who moved her to San Diego. Her individual identity and a sense of self-worth did not enter into the equation. "My role," she says, "was to satisfy everyone around me and to live a life that was predetermined for me."
Ultimately bucking the dictates of life and other people's expectations, Ghawi took control of her own destiny by leaving her husband and applying for the MBA program he had previously forbidden. To her complete astonishment, her application was approved. "It was a dream come true," she says. "I knew that education was the only thing that could save me. It would open my eyes to the possibilities and give me the foundation for success."
New campus, new life.
Just the simple act of attending classes was transformative. "The USD campus is a very healing environment," Ghawi says. "From the colorful flowers and the artistic architecture to the fresh air and the hilltop views of the Pacific Ocean, I breathed it all in as I listened to the USD church bells. It helped me move forward."
"The professors at USD changed my life."
The smaller-sized classes and one-on-one interactions with faculty gave her the skills and confidence she needed to keep moving forward. "The professors at USD truly changed my life. I was able to meet and talk with them anytime. They knew us all by name. I think that personal attention and encouragement was just what my spirit was longing for."
A leader is born.
When a USD professor urged Dima to run for student president of the Supply Chain Management Association, she balked. "I thought it was a joke; I did not consider myself a leader," she says. But the professor believed in her and wouldn't give up. Eventually, she took the challenge, ran for office, and won the election. "I was shocked, but then I thought: If all these people think I can do it, maybe I can. So I put my heart and soul into leading the organization, and with every step, I built my confidence."
At the end of the first year of the MBA program, and solely in an effort to "practice interviewing skills," Ghawi applied for the Supply Chain Leadership Program at IBM. With a shoulder bag loaded down with portfolio pieces that professors helped her build, Ghawi flew to New York for an interview. Three weeks later she received an offer. She was one of only eight MBA candidates nationwide to be selected for IBM's elite leadership development program. "Without USD," she says, "I wouldn't have even been close to being qualified."
Empowering women everywhere.
Ghawi further developed her leadership acumen and skill-set over the 11 years that she worked at IBM. In 2015 she started her own consulting group and founded the Leadership and Empowerment online community, which promotes the advancement of women in business. "While working at IBM and managing global teams, I was shocked to find that women everywhere faced similar challenges with self-esteem and avoided risk taking. From China to Hungary and across the U.S., I saw over and over that it wasn't just me."
Today, as an international keynote speaker, leadership coach, and trainer, Ghawi shares her message of empowerment through global speaking engagements and interactive workshops. She is known for her popular TEDx talk "Breaking Glass: A Leadership Story," which has inspired thousands to remove their own personal barriers and awaken their sense of purpose. "I share with my audience my own leadership transformation journey, with the hope they will be inspired and take the courageous actions necessary to break free of their own limitations and dare to fulfill their amazing potential."
"My journey is no longer about me," she says. "It's about the women and men and students and leaders I meet; It's about everyone that I can inspire, encourage, and empower. I truly believe that if all of us dare to take some bold steps forward, we can shatter the barriers that contain us, and discover a much more rewarding and fulfilling daily reality. The world needs courageous, confident, and caring leaders. My hope is to plant some seeds, nourish the growth, and watch the fruit of these wonderful souls come to fruition."
Phone
Phone: (619) 260-4830

Map
Olin Hall
5998 Alcalá Park
San Diego, CA 92110