The University of San Diego School of Business Continues to Rise in Financial Times Top 100 Global MBA Rankings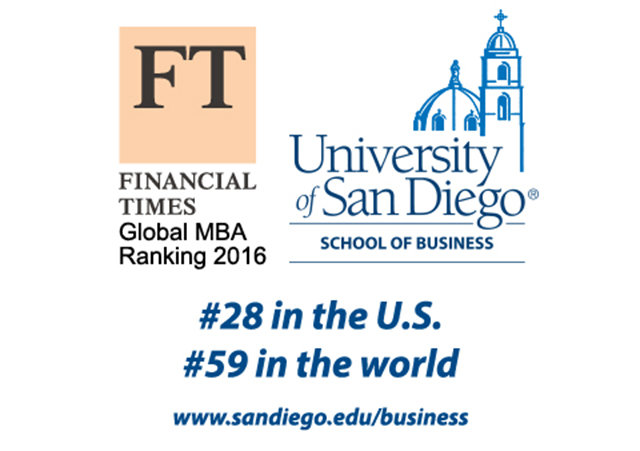 The MBA program in the University of San Diego School of Business rose to 28th in the nation (from 33rd ) and 59th in the world (from 66th) in the 2016 Financial Times Top 100 MBA rankings, released today. The ranking by one of the world's preeminent business publications places USD's School of Business MBA program in the top five percent of the approximately 2,000 programs worldwide. The MBA program debuted in the Financial Times rankings in 2015.
Among the 105 ranked schools, only 47 are in the United States and six are in California. The University of San Diego School of Business is the only university in San Diego County to be ranked.
"It is gratifying to see the success of our students and alumni, the dedication of our faculty and staff and the engagement of our business community recognized by Financial Times for the second year in a row," says Jaime Alonso Gómez, dean of the University of San Diego's School of Business. "We are particularly proud of our improved standings, which underscore our commitment to student services and career placement."
The University of San Diego School of Business achieved highest rankings in value for the money (56th), international student experiences (32nd) and career placement success (20th). In July 2015, Financial Times ranked the University of San Diego's School of Business MBA third in the world for entrepreneurship.
School of Business MBA students study and consult in a number of global cities, including Buenos Aires, Delhi, Hong Kong, Munich, Rio de Janeiro and Shanghai. To meet the demands of today's global marketplace, MBA students work closely with the school's Ahlers Center for International Business to coordinate study abroad and consulting practicums, and spend an average of 15 days outside the United States during their studies.
Amazon, Google, McKinsey & Co., Deloitte, BCG and Bank of America are just some of the leading firms that have hired School of Business MBA graduates in recent years. Graduates also have gone on to work for fast-growing firms based in San Diego, including Illumina, Qualcomm and ViaSat. Other USD MBA graduates have started their own companies, such as Bon Affair and Tower Paddle Boards.
The Financial Times ranking, now in its 18th year, uses weighted criteria in the areas of salary, salary increments, faculty research, placement and international mobility. It also assesses programs on international and gender diversity of faculty and students.
Accredited by the Association to Advance Collegiate Schools of Business (AACSB) since 1981, the University of San Diego's School of Business is committed to developing socially responsible leaders with a global mindset through academically rigorous, relevant and values-based education and research.
Map
5998 Alcalá Park
San Diego, CA 92110