Creating a World in Which Everyone is a SmartyPants
Brittany Becker '15 BA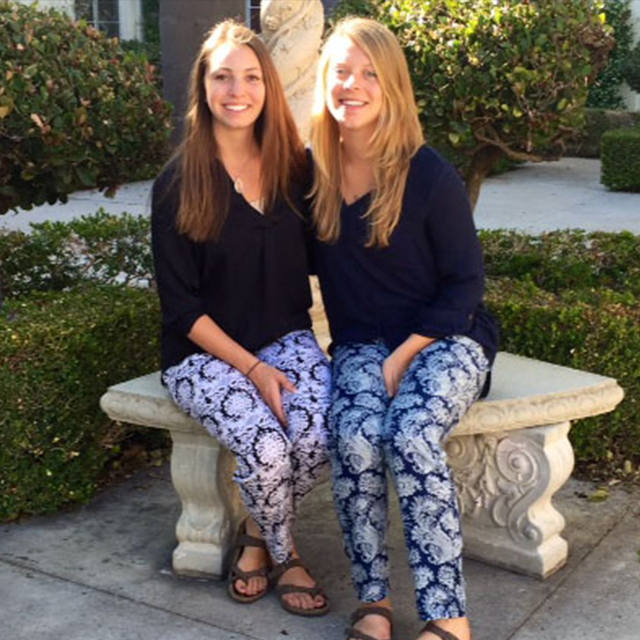 Do you believe one pair of pants can change the world? Recent University of San Diego School of Business Administration alumna Brittany Becker BA '15 does.
In 2014, she co-founded the company, SmartyPants Wear, with her best friend, former USD student Mackenzie Martin, following the experience the pair had while on Semester at Sea (SAS): as they traveled the world, they would take photos in harem-style pants, post them to Facebook and Instagram and people back home would comment, saying they wanted a pair. With that, a business was born.
Once Becker and Martin saw the demand, they did a trial sale after a visit to India on the SAS ship. In less than two hours they sold all 50 pairs. Becker saw the success with sales and pursued the idea.
But just selling pants wasn't the end-goal of the idea. The duo were further inspired to find a way to make their pants change the world after visiting many impoverished schools in developing countries as part of their trip. They developed the motto: "education is the key to breaking the cycle of poverty," dedicating a portion of their proceeds to an educational nonprofit in India called the Nanhi Khali Project. The organization in turn donates scholarship money for girls' education. Becker and Martin do not pay themselves.
They officially launched SmartyPants as an e-commerce company in August and since then, have relied solely on social media to market their cause. Each pair of pants sells for $35, and so far, SmartyPants has supported 13 girls for one year of schooling. During the fall 2015 semester, Becker and Martin plan to use USD campus reps to drive sales and awareness. They also hope to expand to men's wear and t-shirts and to create customized patterns in the future. The company currently sources pants through the Hugh Lin Garment Company in China, but Becker hopes to develop local suppliers from Mexico.
"I want to provide the Mexican women's community with more opportunity and connect our mission with female empowerment," she explains.
Being the granddaughter of an entrepreneur (Becker's grandfather founded Flor America, once the largest exporter of flowers in the world) means that launching her own business is in Becker's blood. And being a business major has also helped her navigate the startup world.
"At the School of Business, I have been surrounded by motivated and intelligent people who support me," she says. "It has been a learning process along the way."
In June 2015, SmartyPants was featured at Fashion Week in Seattle. It was also one of the finalists in USD's 2015 Social Innovation Challenge.
"I am passionate about using business as a tool to create social change," Becker says.
And she definitely is…one pair of pants at a time.
--Claire DeMarco '17 Communications Studies and Courtney Atienza '16 Marketing
Map
5998 Alcalá Park
San Diego, CA 92110