New School of Business Dean Appointed at University of San Diego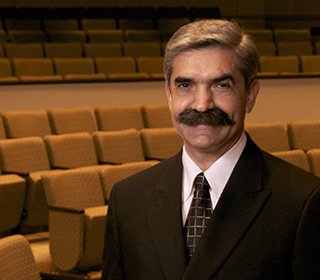 The University of San Diego announced today the selection of Jaime Alonso Gómez as the next dean of the School of Business Administration.
Gómez has extensive international experience as a professor, consultant, researcher and board member across the Americas, Asia, Africa and Europe. He served for 20 years as founding dean of the Graduate School of Business Administration and Leadership (EGADE) at Tec de Monterrey campuses in Mexico City, Monterrey and at the national level for EGADEs of the Tec de Monterrey System. He also brings national and international expertise as a past board member of international business accreditation agencies such as EQUIS, AACSB and the Graduate Management Admissions Council.
Gómez earned his PhD in Applied Economics and Managerial Science from the Wharton School of the University of Pennsylvania. He has been working in various capacities at USD for more than 20 years as a visiting faculty member, executive education instructor, co-designer of multiple joint international initiatives and board member of the Joan B. Kroc School of Peace Studies. In 2005, Gómez was recognized as "Dean of the Year" by the Academy of International Business for his leadership in international education.
"Jaime Alonso Gómez has been a highly successful dean, respected by his peers in business schools around the world," said University of San Diego Vice President and Provost Andrew T. Allen. "His proven skill in managing a complex organization and recognized global leadership in business education will make him a tremendous asset to USD's School of Business Administration and to our university as a whole."
Under Gómez's entrepreneurial leadership, EGADE launched several innovative programs such as the first PhD program in Business Administration, the first triple MBA degree in North America, the first Latin American MBA certification program, the first Executive Program for the Americas and developed academic alliances with HEC Paris, MIT, Wharton, IE Madrid, WHU Germany and FGV Brazil. As a result, EGADE was recognized as one of the top business schools in the world (Financial Times, Wall Street Journal and the Aspen Institute) and in Latin America (América Economía).
Gómez has successfully participated in multimillion fundraising campaigns including a new school building, a new business incubator, several research chairs and purpose-specific research activities for non-governmental organizations. He was also a founding member of the Principles for Responsible Management Education (PRME), which champions responsible management education, research and thought leadership on a global scale. He serves or has served as a member of multiple academic editorial boards, international advisory boards, corporate boards and non-governmental boards, including CETYS Business School in Mexicali, Mexico, COPPEAD in Rio de Janeiro, Brazil, ENAE Business School in Murcia Spain and IIT in Chicago, Illinois.
"I look forward, with enthusiasm, to serving as dean of the School of Business Administration at the University of San Diego. Working with the faculty, administrators, staff, alumni, students and board members will indeed be a tremendous privilege. We will build on a strong foundation of intellectually stimulating, innovation driven and internationally competitive academic activity. Collectively, we will continue enhancing the quality, value, visibility and reputation of the school. I also look forward to being a part of the thriving San Diego community and the opportunities it provides," said Gómez.
Phone
Phone: (619) 260-4830

Map
Olin Hall
5998 Alcalá Park
San Diego, CA 92110