School of Business Student's Internship at KPMG Prepares Her for Accounting World
Chloe Lingle '15 BA '15 MACC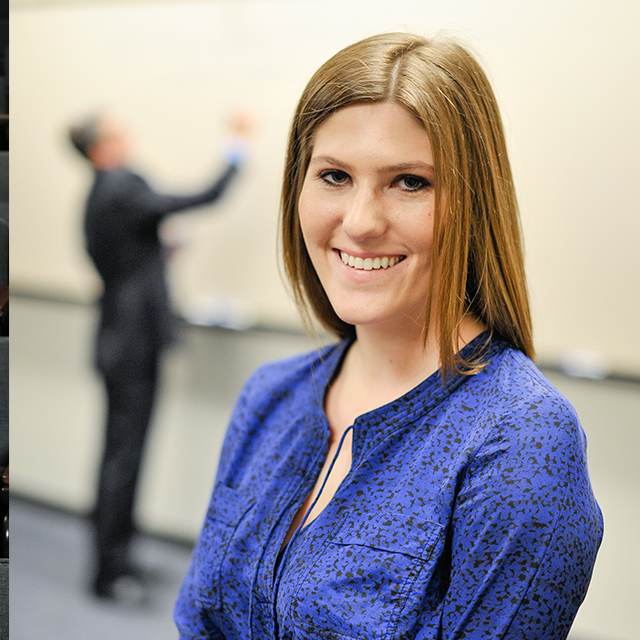 For an accounting major, the recruitment process starts long before the countdown to commencement begins. Chloe Lingle '15 BA, '15 MACC says the year and a half recruitment process is rigorous and competitive. Students have their hopes set on landing a spot in the summer leadership program, which is all about networking and can lead to internships, fulltime positions and long-term careers.
"Accounting majors are wanted because of their technical skills and most have job offers lined up well before graduation," she says. "I learned about the Big Four auditors—KPMG, Ernst & Young, PricewaterhouseCoopers and Deloitte—and each department during the program at SBA. I decided I wanted to go into auditing."
Lingle credits the School of Business at the University of San Diego with preparing her for the working world and for the business interactions she would experience there.
"I learned from my professors and peers in Beta Alpha Psi, the accounting society, what type of questions to ask in interviews, how to dress professionally and how to interview well," Lingle says. "Every week, representatives from different companies present at the meetings and recruit interns and employees from our society. Accountancy professors Mark Judd and Diane Pattison have done everything in their power to help students, like me, secure employment. They are excellent resources."
Lingle also went to London, Paris and Rome with Judd and Pattison for the MACC degree program, exploring global opportunities and experiencing life as an auditor abroad. "Through the European Culture class, I noticed differences in business etiquette practices and communication methods varied greatly comparing the U.S. to other countries," she says. "The experience opened my eyes and I have a better understanding how important clear communication really is."
All her preparation and studying paid off—Lingle was fortunate to be offered an internship at KPMG in summer 2014. When the internship ended, she was offered a full-time position with the firm as an audit partner. Lingle now works as a tax associate at Holt Holthouse Carlin & Van Trigt.
She says: "Other departments on campus should take note of the accountancy recruitment process and follow suit."
-- Victoria Johnson '04 BA (Communication Studies)
Phone
Phone: (619) 260-4830

Map
Olin Hall
5998 Alcalá Park
San Diego, CA 92110