Gender Affirming Strategies
When we are intentional in creating affirming spaces for trans, nonbinary, and gender nonconforming folks (TNBGNC), it sends a message of care and concern to the entire LGBTQIA+ community. Honoring diverse genders is more accurate and can go a long way in helping people feel a sense of belonging.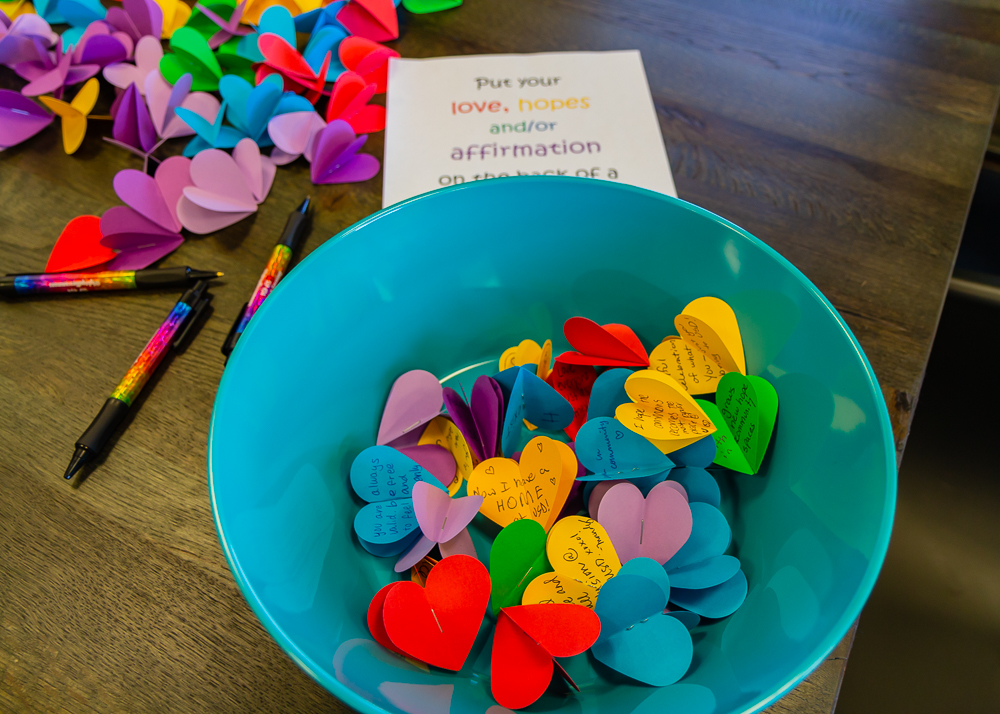 Six Things You Can do to Create a Gender Affirming Space
Share and list your pronouns
Sharing your pronouns normalizes the practice and 'brings them into the room' so that a TNBGNC person doesn't have to be the first one to raise it. We recommend that you always share your pronouns when introducing yourself and steer away from requiring everyone in the group to share theirs (for some folks, that expectation means choosing between outting themselves or misgendering themselves).

Places to list your pronouns: email signature, Zoom name/name tags, business cards, syllabus.
Use gender inclusive language


Our culture uses a lot of language that genders people and spaces, often along the gender binary. The following table shows some alternatives to make your language more inclusive and avoid erasure of nonbinary people.




Instead of saying...
Consider using...
"Ladies and gentleman"
"Everyone"
He/she
they
"Hey guys"
"Folks;" "Friends;" Just "hey"
A pronoun for someone whom you don't know how they identify
Their name
Pointing out the nearest restrooms and only naming where the gendered restrooms are located
Know and share where the nearest all gender restrooms is as well

e.g. "We have men's and women's restrooms down the hall to the right. For the nearest all gender restroom, it's on the floor above us just past room 222."

Interrupt microaggressions and harmful language/behavior
Perhaps the most important act of allyship is to interrupt behavior that targets or denigrates the community. When we let these statements slide or wait to correct someone out privately, this sends a message to everyone else in the room that their behavior is okay. It can make the LGBTQ+ folks in the room feel as though you either didn't see what was wrong with what was said or didn't care enough to act. Whether it is a slur (gay, the t word, or f word), exclusionary statement ("the men and women in this room") or deadnaming a trans student, the behavior needs to be addressed and/or corrected. The only exception is misgendering when that person might not be out; only correct pronouns with the consent of the person (and have that conversation privately).


Know the policies, resources, and services on campus for gender diverse students
When you are familiar with University of San Diego policies and resources relating to our trans, nonbinary, and gender nonconforming students, you are able to be a resource for students seeking support. A lack of familiarity can also lead to practices that neglect or contradict university expectations and care.

Follow university guidelines for designing gender inclusive forms
When gender diverse students encounter program applications, forms, and survey questions that neglect their identities, it can be a painful reminder of the ways their journey has not been reflected or affirmed in the world. This could prompt students to navigate away from your page, or avoid your department/program as a whole. Student Affairs Assessment and Research recommends that all university forms relating to sex and gender follow these guidelines.


Include a statement on your syllabus
Be mindful that the name and/or gender marker on student records may not accurately reflect a students' identity. We recommend including the following statement on your syllabi and facilitating introductions on the first day of class in a way that doesn't rely on your roster.

Sample Syllabus Statement:
If you have a name and/or pronouns that differ from those that appear in your USD record, please let me know. If you would like to change your name on record, you can request this through the MySanDiego portal. For additional assistance and accommodations, please contact the Title IX Coordinator, Nikki Veloz at titleIX@sandiego.edu or Stacey Williams with the LGBTQ+ & Allies Commons (slwilliams@sandiego.edu).
These recommendations offer ways for students to both see and experience your support. It's a good idea to think about how you make your awareness of TNBGNC presence and concerns both visible and felt. For further learning (and a visible placard to put up in your office), join us for a Safe Space Allies training.