About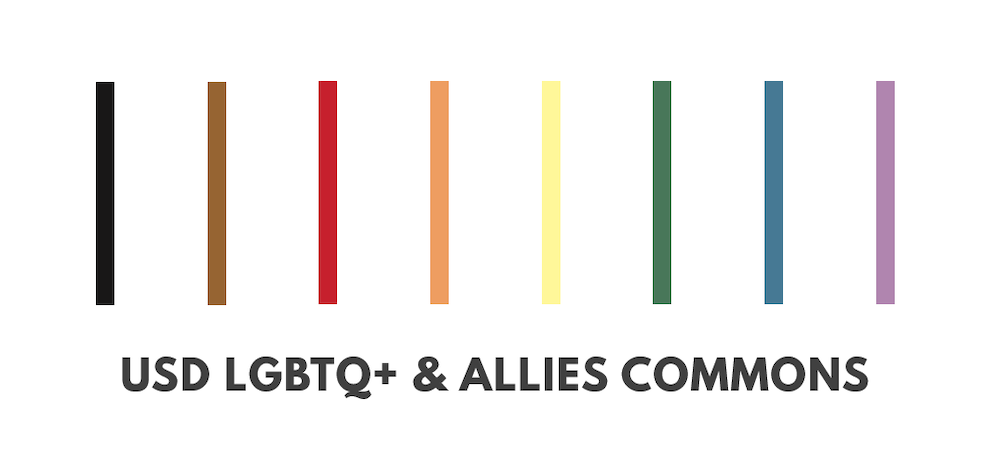 Welcome Class of 2024
We are so glad that you'll be joining our Torero family this year. If you have any specific questions as you prepare for your time at USD, please don't hesitate to email lgbtq@sandiego.edu and Stacey Williams, the Associate Director of The Commons, will be in touch.
About Us
Established in 2018, the LGBTQ+ & Allies Commons came out of a legacy of student activism that pushed for greater visibility and support for LGBTQ+ community members. As a student-run space, our work is informed and carried out by student coordinators and volunteers. We seek to create affirming spaces for queer and trans folks while educating the entire campus community about inclusive strategies through an anti-oppression framework that is explicitly pro-Black, queer, and feminist. With this goal in mind, we provide an LGBTQ+ student lounge, host identity-specific community groups, and offer educational programs around LGBTQIA+ culture and concerns.
As an engaged, contemporary Catholic university, USD is dedicated to creating a world where each person's inherent dignity is protected and affirmed. Our presence on campus flows out of this commitment and is an expression of the university's solidarity and embodiment of the Catholic call to care for the whole person.
As a part of The Commons — the collective of identity spaces on campus —we're neighbors with the Black Student Resource Commons, United Front Multicultural Commons, and Women's Commons. Together, we center solidarity, intersectionality, and holistic identity development.
Check out The Commons intro video for more.