Blackboard Ultra
As of January 1st, 2019, Blackboard migration to the cloud-based, Software-as-a-Service (SaaS) environment is complete.
Things to know:
First, users should clear the cache of their browser(s) before logging on.
Second, use the same Blackboard URL 'ole.sandiego.edu' to log on.
Once you log in, you will see the modernized landing page with some new features such as a new Activity Stream feature, Profile, Calendar and Messages.
Click on Courses to see all of your courses; current, past and upcoming.
To learn more, attend workshops, quick start trainings, and orientation sessions, click on the links below. You can also make an appointment with the LDC or visit us in the drop-in center in Barcelona 125. 
Explore this web page for an overview of the new base navigation screen, description of features and benefits, and training links to learn more about the SaaS continuous delivery Product Releases in the new environment.
Note: After the migration, LDC will commence with an early pilot of Learn Ultra, a next-generation product. Refer to the Learn Ultra Pilot web page for details.
---
The left-hand 'base navigation' links to your profile, and your Courses and Organizations lists. New to all users will be the Activity Stream, a pipeline view of all course activity. On the new landing page, we recommend you:

After selecting a course from your Courses list, you will find the original course view with the same instructor interface, navigation, features, and tools.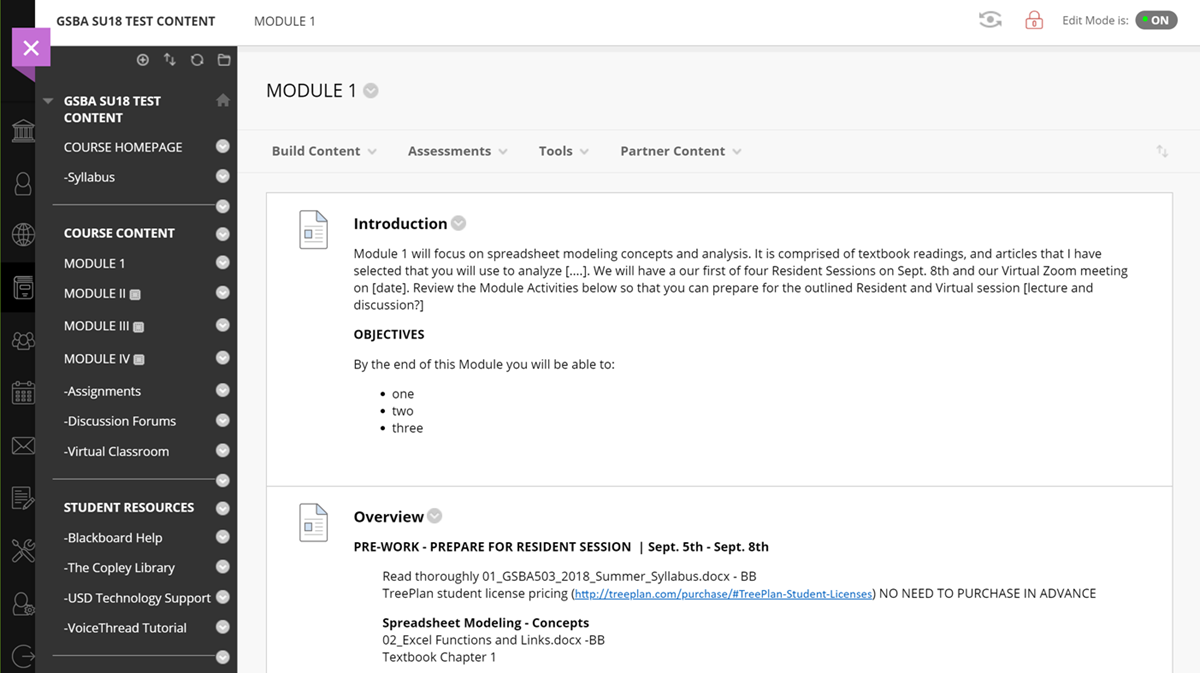 The current ole.sandiego.edu dashboard landing page displays your Courses and Organizations list as Modules, with support information in the upper right.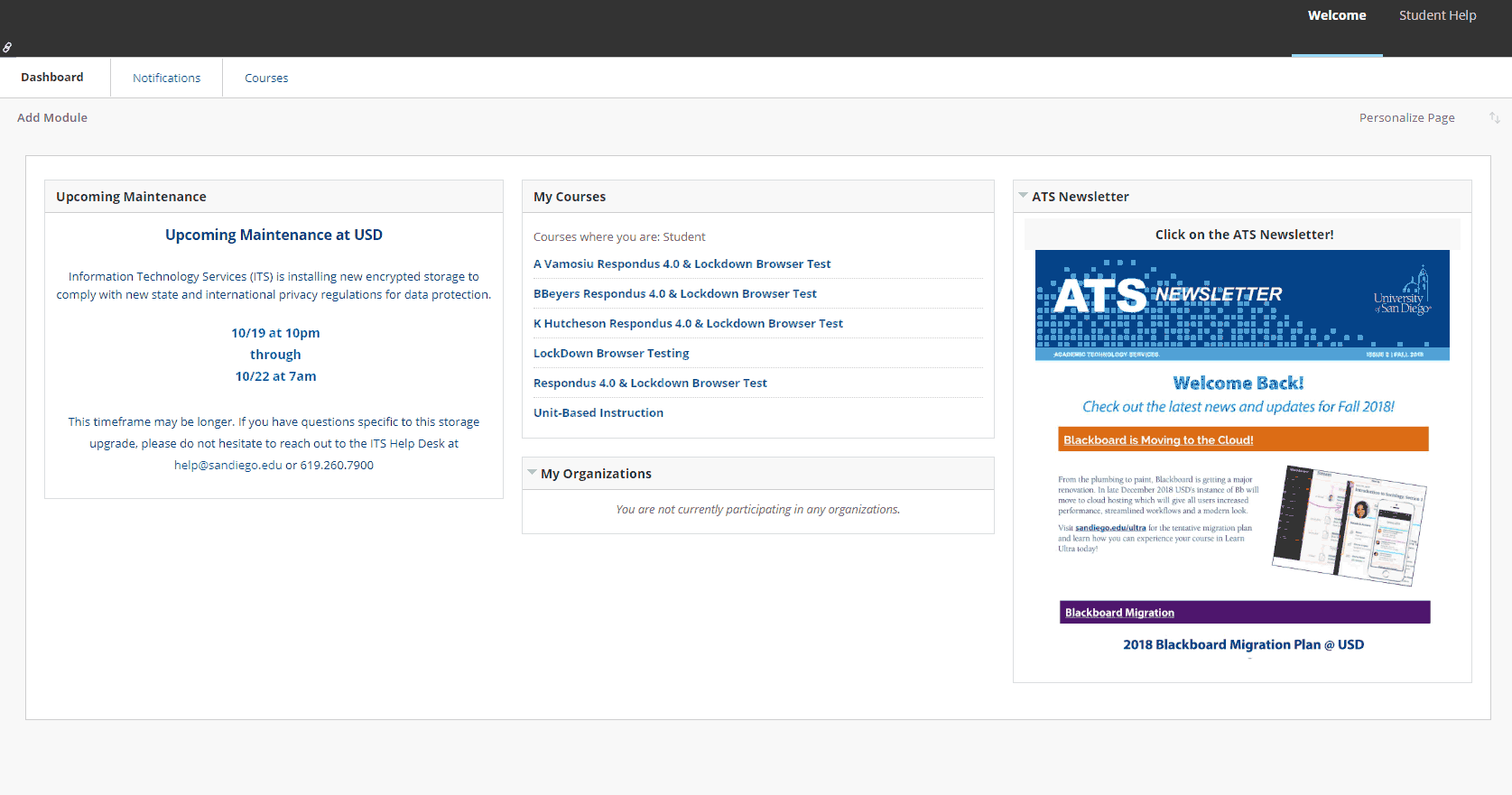 Profound, Long Term Benefits
Moving Blackboard to the Learn SaaS platform and modern cloud computing architecture has profound benefits to the end-user in the near and longer-term, including: 
Zero impact to students and faculty during updates. New features, fixes, and enhancements are delivered with no downtime or routine maintenance windows. 
Scalability- The platform easily scales during high usage periods and utilizes 2 data centers for recovery and back-ups.
Monitoring- Blackboard support of the system is 24x7x365 with hosting on Amazon Web Services (AWS).
Integrations- Utilizing industry standards, SaaS hosting allows for tighter integrations between third-party technologies, tools and publishing content.
Faster Roadmap Releases- SaaS allows USD to pilot Blackboard's next generation course experience, Ultra. With consolidated workflows and integration of data, faculty and students can experience the latest in this streamlined user experience. 
FAQs about the Migration
Will we be moving to 'Ultra' after migration?

Learn ULTRA is our Pilot Program. Try it. Test it. Join us!

Some background on Ultra and the migration:

Still in early release, Learn Ultra is Blackboard's streamlined, next generation mobility solution. Ultra is a new paradigm in learning design and delivery, a dramatic change in UX interface and navigation.
Learn Ultra will not be enabled after the migration at USD. The migration to SaaS will create a sufficient condition to pilot Ultra and its next generation mobility.
ATS is conducting a pilot of Learn Ultra after the migration and is soliciting faculty input and feedback on the experience.
The pilot program and advisory team will explore if, when, and how Learn Ultra could be enabled on an institutional scale. Future options and opportunities will be shared with the community.

All information and updates about the Blackboard Learn Ultra experience, the course preview, and the pilot program is found on the Blackboard Learn ULTRA web page.

Will I be able to grade during winter break? Can I use the Grade Center offline?

In preparation for the migration, there are some considerations for faculty to note:

Extending the grading period. Thanks to the Office of the Registrar for extending the grading window from January 2, 2019, to January 4, 2019.
FA18 Bb GradeCenter Export - Faculty teaching a Fall 2018 course utilizing the GradeCenter may want to export their GradeCenter so they may continue to work on their grades, offline of Blackboard, while the system is down. The following job-aid provides instructions on how to export your GradeCenter from Blackboard.
Please note: MySanDiego portal will be accessible during this downtime so you can still enter final grades. Faculty that do not use Blackboard or do not use the Bb GradeCenter to calculate their final grades, please enter your grades into the portal by January 2 in order for the Registrar to begin processing their reports.

How do I archive a Blackboard Course?