Shawn Miller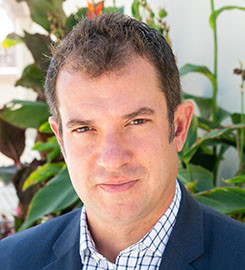 Office:
Pardee Legal Research Center 315
Professor in Residence
PhD, 2012, George Mason University

JD, 2004, Notre Dame Law School

BS, 2000, University of Notre Dame

BA, 2000, University of Notre Dame

Areas of Expertise
Professor Miller teaches and writes in the areas of Civil Procedure, Corporations Law and Technology, Intellectual Property, and Patent Law.
Professional Experience
Prior to joining the University of San Diego in August 2019, Miller managed Stanford's Law, Science and Technology LLM program for international lawyers from 2014 to 2017. In this role he served as the academic advisor for all students in the program and taught the Law, Science and Technology Colloquium. He then continued at Stanford Law School for two years as the IP Research Fellow. While at Stanford, Miller created the Stanford NPE Litigation Database, which categorizes the owners of every patent litigated since 2000 as practicing or as one of several types of non-practicing entities. Miller also taught the Patent Troll Policy Practicum, which enabled students to present original research to the U.S. Patent Office and Federal Trade Commission while assisting in developing the NPE Litigation Database. He continues his work on the NPE Litigation Database and related empirical projects as a non-resident CodeX Fellow in the Stanford Center for Legal Informatics.
Miller's research interests span the law and economics of litigation, innovation and intellectual property rights. His recent scholarly work has focused on patent venue reform, judicial behavior and the economics of software patent and non-practicing entity litigation. His work has appeared in the Texas Law Review, the University of Colorado Law Review, the Stanford Technology Law Review, the Virginia Journal of Law and Technology and the Journal of Empirical Legal Studies.
Miller has been an adjunct professor at the University of San Diego, where he taught undergraduate Law and Economics, the UC Hastings College of the Law and the Santa Clara University School of Law. Following law school, Miller practiced intellectual property litigation and patent prosecution in the Chicago office of Wildman, Harrold, Allen & Dixon, LLP. Miller was also a Contract Associate at Coughlin, Stoia, Geller, Rudman & Robbins LLP, an Associate at Marks Golia & Finch LLP, and a Judicial Intern in the Michigan Court of Appeals.
Honors and Affiliations
Professor Miller graduated with honors from the University of Notre Dame, where he majored in mechanical engineering and philosophy. He earned his J.D., cum laude, from the Notre Dame Law School and his economics Ph.D. from George Mason University. He is a licensed attorney and member of the State Bar of California and the Patent Bar.
Related Links