Joe Villasenor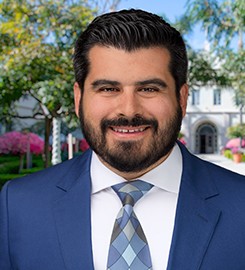 Professor of Practice
JD, 2009, University of San Diego

BA, 2006, Claremont McKenna College

Areas of Expertise
Professor Villasenor teaches Civil Clinic.
Professional Experience
Professor Villaseñor joined USD as an adjunct professor in 2018 and was promoted to professor of practice in 2020. He was most recently the lead attorney for the Legal Aid Society of San Diego, Inc., Consumer Protection Division, Office of the Public Attorney. Professor Villaseñor has represented nearly 1,000 consumers in matters of debt collection abuse and harassment claims, auto fraud, student loan law, FCRA, identity theft and consumer finance litigation. He also acts as a consultant on consumer protection and general civil litigation cases, providing attorneys around the country with strategy and advice in this area.
Prior to the Legal Aid Society, Professor Villaseñor owned his own law firm, the Law Office of Joe J. Villaseñor. He also worked as a contract attorney for Hulett Harper Stewart, LLP and the Law Office of Paul D. Turner, and was a staff attorney at USD School of Law in the Civil Clinic.
Honors and Affiliations
Professor Villaseñor was awarded the exclusive National Consumer Law Center Rising Star Award in 2019, a nationwide distinction that honors only four consumer protection attorneys each year. His commitment to pro bono service has been recognized by the State Bar of California with the Wiley W. Manuel Award for Pro Bono Service and the Legal Aid Society of San Diego with the Outstanding Service Award, both presented in 2011. He has been nominated by the San Diego Daily Transcript for Top Young Attorney, Top Corporate Litigation Attorney and Top Influential Attorney honors. While in school at USD, Professor Villaseñor was awarded the Pro Bono Services Award in 2009 and Warren Family Endowment Scholarship from 2007-2008. He is a member of the National Association of Consumer Advocates.