Jessica Heldman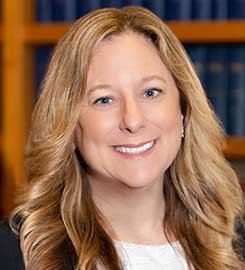 Fellmeth-Peterson Associate Professor in Child Rights
JD, 2004, University of San Diego School of Law

BS, 1995, Northwestern University

Areas of Expertise
Child Rights, Juvenile Law
Professional Experience
Heldman served as Associate Executive Director at the Robert F. Kennedy National Resource Center for Juvenile Justice at Robert F. Kennedy Children's Action Corps in Boston, MA. In this capacity, she provided technical assistance and training to state and local jurisdictions, guiding the development of law and policy within child welfare and juvenile justice systems throughout the nation. Heldman served as a consultant for organizations including Children's Rights in New York City, the Child Welfare League of America, and Georgetown University's Center for Juvenile Justice Reform. She has experience in representation of dependent and delinquent children in juvenile court as well as impact litigation on behalf of foster children. Heldman also worked for the law firm of Golden & Cardona-Loya, LLP in the areas of estate planning and consumer law. Prior to law school, Heldman worked as a theater educator developing and teaching educational arts programming for dependent and delinquent youth in San Diego.
Heldman is the author of the guidebook, A Guide to Legal and Policy Analysis for Systems Integration, co-author of the Dual Status Youth-Technical Assistance Workbook and the Guidebook for Juvenile Justice and Child Welfare System Coordination and Integration. She has also authored and co-authored several publications on topics such as developmental reform in juvenile justice and the representation of dual status youth and is a frequent presenter. Heldman has served on an expert panel before U.S. Congressional staff and presented expert testimony to California. In addition, Ms. Heldman contributed to the development of the 2nd version of the MacArthur Foundation supported Models for Change Information Sharing Toolkit at www.infosharetoolkit.org, and served as faculty for the Information Sharing Certificate Program at Georgetown University and the online CLE program Information Sharing in Youth and Family Serving Systems.
Honors and Affiliations
Heldman graduated magna cum laude from the University of San Diego School of Law, where she was a member of the San Diego Law Review and the Order of the Coif. She is the author of the San Diego Law Review comments Court Delay and the Waiting Child. Heldman was awarded the James A. D'Angelo Outstanding Child Advocate Award and the 2014 Children's Advocacy Institute Trailblazer Award. She currently serves on the Polinsky Children's Center Advisory Board.