Leah Christensen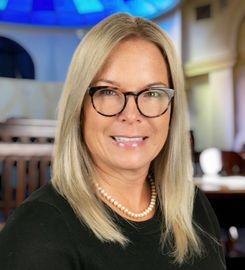 Professor of Legal Writing
JD, 1995, University of Iowa College of Law

BA, 1992, University of Chicago

Areas of Expertise
Legal Research and Writing, Legal Reading, Professional Responsibility, Legal Pedagogy, Lawyering Skills, and Negotiations.
Professional Experience
Following law school, Professor Christensen clerked for Justice William A. Bablitch of the Wisconsin Supreme Court. Christensen practiced law in the areas of medical malpractice, environmental law, and public education law. Christensen was a former professor at Thomas Jefferson School of Law, University of St. Thomas School of Law, and University of Wisconsin School of Law, where she taught Legal Writing, Lawyering Skills, Professional Responsibility, Negotiations and Education law. She joined the USD School of Law faculty in 2018.
Honors and Affiliations
Professor Christensen was an editor on the Iowa Law Review. Christensen received the "Professor of the Year" each year between 2006 and 2013, including the Lewis and Clark Award for Innovation in 2013, and awards from the Black Allied Law Students Association (BALSA) and the Women Law Students (WLSA).
Scholarly Work
"LEARNING PROFESSIONAL RESPONSIBILITY: FROM THE CLASSROOM TO THE PRACTICE OF LAW", no. 2nd (with Brooks Holland) (West Academic Publishing, 2018); "Law Students Who Learn Differently: A Narrative Case Study of Three Law Students with Attention Deficit Disorder " in (2018); "The Short and Happy Guide to the MPRE" (West Academic Publishing, 2017); "The Weekend MPRE: A Complete Guide to the MPRE in Only a Weekend's Time" (West Academic Publishing, 2016); "The Attorney-Client Privilege in U.S. and China" in (2012); "1L OF A YEAR": RESEARCH-BASED LEARNING STRATEGIES TO MAXIMIZE YOUR SUCCESS IN LAW SCHOOL" (Carolina Academic Press, 2012); "Legal Reading and Success in Law School: The Reading Strategies of Law Students with Attention Deficit Disorder" in (2010); "THINKING OUTSIDE THE BOX: A HANDBOOK FOR LAW STUDENTS WHO LEARN DIFFERENTLY" (Carolina Academic Press, 2010); "Predicting Law School Success: A Study of Goal Orientations, Academic Achievement and the Declining Self-Efficacy of our Law Students" in (2009); "Navigating the Article Selection Process: An Empirical Study of Those With All the Power - Student Editors" in 59 South Carolina Law Review 465 (with Julie A. Oseid) (2008); "Going Back to Kindergarten: Considering the Application of Waldorf Principles to Legal Education" in (2007); "Legal Reading and Law School Success: An Empirical Study" in 30 Seattle University Law Review 603 (2007); and "The Psychology of Case Briefing: A Powerful Cognitive Schema" in (2006).
Conferences and Presentations
Professor Christensen has delivered presentations on her empirical research at conferences sponsored by the American Association of Law Schools (AALS), the Institute of Law School Teaching (ILST), the Education Law Association, the Legal Writing Institute, and the Law School Admissions Council. Professor Christensen has also received grants for her research from the Legal Writing Institute and the Association of Legal Writing Directors.