Kathleen Bolus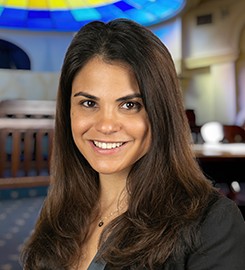 Assistant Director of Academic Success and Bar Programs, Adjunct Professor of Law
JD, 2010, University of California, Los Angeles

BA, 2006, University of California, San Diego, magna cum laude
Kathleen "Kate" Bolus joined the University of San Diego School of Law in 2018 as the Assistant Director of Academic Success and Bar Programs, after spending several years as an Associate Director of Academic Success and Adjunct Professor of Law at a local Southern California law school. Kate has developed curriculum for and taught classes designed to prepare students for success in law school and on the bar examination. Kate also works individually with students as well as develops and leads workshops to improve students' study habits and organizational, writing, analytical reasoning, and exam taking skills.
Prior to transitioning to legal education, Kate practiced labor and employment law at Jones Day and managed a portfolio of local, state, and federal government grants and contracts at the Community Resource Centers, a nonprofit social services agency serving residents throughout coastal North County San Diego. Before practicing law, Kate devoted a year to full-time service through AMERICORPS, a national program designed to combat poverty by building the organizational, administrative, and financial capacities of community-based organizations that assist low-income communities.
A California native, Kate devotes her spare time to traveling, improving her speed on long runs, and spending time with her husband and dog, Shasta.
Professional Experience
Professor Bolus teaches Fundamentals of Bar Exam Writing and Legal Analysis.