David Brennan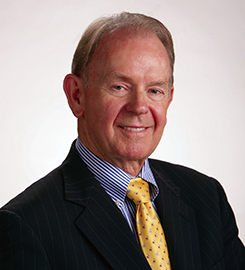 Professor of Practice
LLM, 2003, University of San Diego

JD, 1973, Golden Gate University
Areas of Expertise
International Law (Public and Private), Civil Litigation, Mediation & International Commercial Arbitration, and Professional Responsibility.
Professional Experience
Prior to joining the USD School of Law faculty, Brennan was an Associate Professor of Law, Civil-Judicial-Appellate Externship director, and Moot Court Competition coordinator at Western State University College of Law. That experience was preceded by his thirty years' experience as a civil litigator in both state and federal courts during which he tried dozens of civil trials. Brennan was the founding and senior partner of two successive law firms and later served as of counsel to three Southern California litigation firms. Following his military service in the U.S. Navy, he entered and completed law school under the G.I. Bill. He is also a certified mediator, arbitrator and temporary judge and served in both the San Diego and Orange County Superior Courts for civil case resolutions.
Honors and Affiliations
Brennan is a Fellow of the Chartered Institute of Arbitrators (CIArb), founding member of the International Association for Court Administration, member of the American Board of Trial Advocates, and a Senior Master in the American Inns of Court, Lewis M. Welsh Chapter #9 of San Diego. He is working currently on a book under contract with Vandeplas Publishing focused on the WWI warring powers' deliberate avoidance of their international treaty obligations to arbitrate or mediate before commencing the war in August 1914.