Robert Muth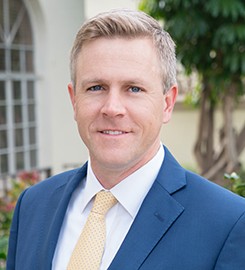 Office:
Alcala Park West - Barcelona 305C
Academic Director, Legal Clinics, Professor in Residence, Supervising Attorney, Veterans Legal Clinic
JD, 2005, Duke University

BA, 2002, Northwestern University
Areas of Expertise
Clinical Education, Veterans Law, Professional Responsibility, Civil Litigation, Consumer Law, Military Justice
Professional Experience
Muth served as a judge advocate in the United States Marine Corps where he handled a wide range of criminal matters, including high profile cases involving allegations of war crimes and mishandling of classified information. While serving as a Captain in the Marine Corps, Muth deployed to Fallujah, Iraq in support of Operation Iraqi Freedom. After completing his service in the Marines, Muth joined a litigation boutique firm based in Irvine, California. His civil litigation practice focused on business litigation, contractual disputes and employment litigation. He currently serves as the Academic Director of USD's award winning Legal Clinics program and is the Managing Attorney of the Veterans Legal Clinic.
Honors and Affiliations
Muth was named the 2017-18 San Diego County Veteran of the Year for his community service efforts assisting veterans and military families. In 2016, Muth received the prestigious Bernard E. Witkin Award for Excellence in Legal Education from the Law Library Justice Foundation. While on active duty, Muth received numerous awards for meritorious service and was named the Defense Counsel of the Year, Navy-Marine Corps Trial Judiciary, Western Judicial Circuit in 2008-09. In 2017, Muth was appointed to the Military and Veterans Affairs Committee of the California Lawyers Association (formerly the California State Bar). He is a Fellow of the Truman National Security Project. Muth also serves on the board and is past chair of the San Diego Veterans Coalition, a prominent local non-profit veterans collaborative organization. Muth is admitted to the bar in both California (2009) and Illinois (2005) and is a VA accredited attorney.