Michael Kelly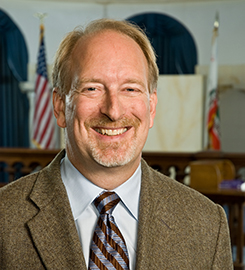 Office:
Pardee Legal Research Center 309
Professor of Law
JD, 1983, University of Michigan

MA, 1980, University of Illinois at Chicago

BGS, 1975, University of Michigan
Areas of Expertise
Professional Experience
Kelly clerked for the Honorable Daniel Friedman of the U.S. Court of Appeals Federal Circuit and practiced law in Chicago. He joined the USD School of Law faculty in 1988.
Honors and Affiliations
Kelly served as articles and administrative editor of the Michigan Law Review.
Scholarly Work
Remedies: Cases, Practical Problems & Exercises, no. 3rd (with Weaver, Partlett, and Cardi) (West Academic Publishing, 2014); Principles of Remedies Law, no. 2nd (West Academic Publishing, 2011); Inside Contract Law: What Matters and Why (Wolters Kluwer, 2010); "The Phantom Reliance Interest in Contract Damages" in 92 Wisconsin Law Review 1755 (1992); and "The Rightful Position in 'Wrongful Life' Actions" in 42 Hastings Law Journal 505 (1991).
| SSRN