Allen Snyder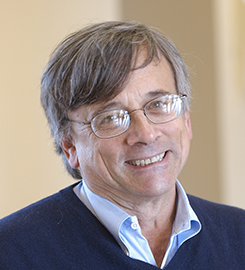 Phone:
(619) 260-4600 ext. 4380
Professor of Law
JD, 1974, Northwestern University

BA, 1968, Washington and Jefferson College
Areas of Expertise
Comparative Law, International Law, Civil Litigation, Alternative Dispute Resolution, International Negotiation, Negotiation
Professional Experience
Professor Allen Snyder has devoted his energies to the School of Law clinical program for over 40 years. He currently teaches International Negotiation and the Civil Clinic, which handles a broad range of cases for low income clients, including consumer issues, breach of contract, uninsured motorist defense, fraud, and consumer debt collection disputes. One of his major innovations has been connecting the Interviewing and Counseling class with the Civil Clinic, enabling students to see legal practice from intake to representation. He also has taught Comparative Law, Civil Litigation, Negotiation and ADR.
Among Snyder's early efforts was development of the Mental Health Clinic, where his students filed writs of habeas corpus on behalf of mental health patients who were being held in locked facilities. One of the first of its kind in the country, the clinic was part of a U.S. Department of Education grant to develop practical legal training in law schools. He also served on the San Diego Mental Health Association Board, including stints as president and chair of the public affairs committee, among other responsibilities.
Snyder has worked extensively with the National Institute for Trial Advocacy (NITA), teaching attorneys all over the country. He created NITA's Practical Guide to California Evidence and California Evidence Code with Objections. He is regularly invited by other nations to train their lawyers with his unique blend of advocacy skills and practice. He has worked with the ABA and other agencies to train attorneys in the United Kingdom, Ukraine, Russia, Philippines and Mexico.
For the past eight years, his international focus has been on the Mexican legal system as part of the Justice in Mexico Project. The original grant for Baja Mexico later grew into programs in Mexico City, Guadalajara, Monterrey and Puebla.
Prior to joining the USD faculty, Snyder worked at the Legal Aid Society of San Diego and practiced commercial law with a private law firm. He currently serves on the San Diego Bar Foundation Board, and previously served on the San Diego Volunteer Lawyer Program board.
In 2012, Snyder received NITA's prestigious Robert Oliphant Award for outstanding program directorship and public service. In 2009, he was a co-recipient of the Bernard E. Witkin Award for Excellence in Civic Leadership and Excellence in Teaching. He has frequently been honored as a Top Academic Attorney by the San Diego Daily Transcript. Snyder has supervised several hundred students, many of whom have become leaders in the legal field.
Honors and Affiliations
Snyder worked extensively with the National Institute for Trial Advocacy and the San Diego Mediation Center.
Scholarly Work
A Practical Guide to California Evidence (with Bocchino, and Sonenshein) (National Institute for Trial Publishing, 1997); and Mental Disorder in the Criminal Process (with Morris) (Greenwood Press, 1993).