Miranda Perry Fleischer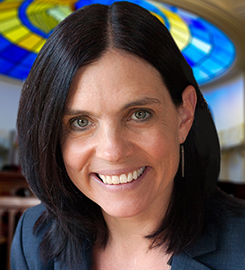 Office:
Pardee Legal Research Center 315
Professor of Law; Co-Director of Graduate Tax Programs
LLM, 2003, New York University School of Law

JD, 1996, University of Chicago Law School

BA, 1993, Duke University
Areas of Expertise
Federal Estate and Gift Tax, Non-Profit Law, Tax, Federal Taxation
Professional Experience
Fleischer joined the USD School of Law faculty in 2013. She has also taught as a tenured or tenure-track professor at the University of Colorado Law School and the University of Illinois College of Law, and as an acting assistant professor at NYU Law School (where she served as assistant editor of the Tax Law Review). Before entering academia, Fleischer practiced as an estate planner at Shaw Pittman LLP and as a litigator at the Institute for Justice, a Washington, D.C.-based public interest group, which piqued her interest in charitable giving. She also clerked for Judge Morris Sheppard Arnold of the Eight Circuit in Little Rock, Arkansas.
Honors and Affiliations
Most recently, Fleischer was named 2020-2021 University Professor. Before that, she won the University of San Diego Law School's 2014-2015 Thorsnes Prize for Excellence in Teaching (determined by student vote) and was named the 2017-2018 Herzog Endowed Scholar. At the University of Colorado, she was awarded the 2011 Provost's Achievement Award, a university-wide award recognizing her 2010 article "Theorizing the Charitable Tax Subsidies: The Role of Distributive Justice." As an LLM student at NYU, Fleischer won the Harry J. Rudick Memorial Award for Academic Achievement and was a student editor of the Tax Law Review. As a JD student, she was a member of the University of Chicago Law Review.
Scholarly Work
"The Architecture of a Basic Income" in 87 University of Chicago Law Review (2020); "Taxing Old Money" as presenter at The University of Virginia Tax Invitational at The University of Virginia Law School in Charlottesville, Va. (November 8, 2019); "Subsidizing Charity Liberally" in Research Handbook on Not-for-Profit Law (Edward Elgar Publishing, 2018); "Atlas Nods: The Libertarian Case for a Basic Income" in Wisconsin Law Review 1189 (with Daniel Jacob Hemel) (2017); "How is the Opera Like a Soup Kitchen?" in The Philosophical Foundations of Tax Law (Oxford University Press, 2017); "Not So Fast: The Hidden Difficulties of Taxing Wealth" in Nomos Wealth Volume (The American Society for Political and Legal Philosophy, 2017); "Divide and Conquer: Using an Accessions Tax to Combat Dynastic Wealth Transfers" in 57 Boston College Law Review 913 (2016); "Libertarianism and the Charitable Tax Subsidies" in 56 Boston College Law Review 1345 (2015); "Charitable Giving and Utilitarianism: Problems and Priorities" in 89 Indiana Law Journal 1485 (2014); "Equality of Opportunity and the Charitable Tax Subsidies" in 91 Boston University Law Review 601 (2011); "Theorizing the Charitable Tax Subsidies: The Role of Distributive Justice" in 87 Washington University Law Review 505 (2010); "Generous to a Fault? Fair Shares and Charitable Giving" in 93 Minnesota Law Review 165 (2008); and "Charitable Contributions in an Ideal Estate Tax" in 60 Tax Law Review 263 (2007).