Adam Hirsch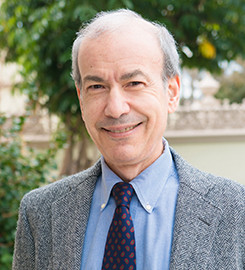 Professor of Law
PhD, 1987, Yale University

JD, 1982, Yale University

MPhil, 1982, Yale University

MA, 1979, Yale University

AB, 1976, Vassar College
Areas of Expertise
Wills and Trusts, Debtor/Creditor Law, Property, American Legal History
Professional Experience
Hirsch was the William & Catherine VanDercreek Professor of Law at Florida State University. He is an academic fellow of the American College of Trust and Estate Counsel and serves on the Florida Historical Commission. He joined the USD School of Law faculty in 2013.
Honors and Affiliations
Hirsch's doctoral dissertation received the George Washington Egleston Prize for the best dissertation on American history. The dissertation was expanded into a book, The Rise of the Penitentiary: Prisons and Punishment in Early America (Yale University Press, 1992). He has served as the Roger Traynor Fellow at Hastings College of Law. 
Scholarly Work
"Disclaimers and Federalism" in 67 Vanderbilt Law Review 1871 (2014); "Formalizing Gratuitous And Contractual Transfers: A Situational Theory" in 91 Washington University at St. Louis Law Review 797 (2014); "Incomplete Wills" in 111 Michigan Law Review 1423 (2013); "Freedom of Testation/Freedom of Contract" in 95 Minnesota Law Review 2180 (2011); "The Code Breakers: How States are Modifying the UDPIA" in 46 Real Property Trust and Estate Law Journal 325 (2011); "American History of Inheritance Law" in Oxford International Encyclopedia of Legal History (Katz, ed.) (Oxford University Press, 2009); "Delaware Unifies the Law of Charitable and Noncharitable Purpose Trusts" in 36 Estate Planning 13 (2009); "Disclaimer Law and UDPIA's Unintended Consequences" in 36 Estate Planning 34 (2009); and "Text and Time: A Theory of Testamentary Obsolescence" in 86 Washington University Law Review 609 (2009).