Maimon Schwarzschild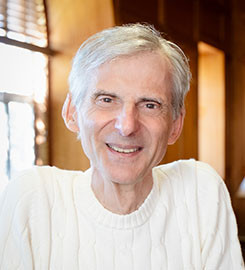 Professor of Law
JD, 1976, Columbia University

BA, 1973, Columbia University
Areas of Expertise
Constitutional Law and Constitutional Rights, Public International Law, Comparative Law, Law and Religious Freedom/Separation of Church and State, Criminal Law and Criminal Procedure, Federal Courts, Evidence, Law and Public Policy
Professional Experience
Schwarzschild served in the U.S. Department of Justice in Washington, D.C. during the Carter administration. He has practiced law as a barrister in London and with the Chadbourne law firm in New York. He was an accredited journalist at the United Nations for five years and had White House press credentials during the Nixon administration. He joined the USD School of Law faculty in 1982, and has been a visiting professor at the Hebrew University in Jerusalem, the Sorbonne in Paris, and the University of California, San Diego.
Honors and Affiliations
Schwarzschild has been an appointed member of the California State Advisory Committee to the United States Civil Rights Commission since 2015. He is a member of the editorial board of Law and Philosophy: An International Journal for Jurisprudence and Legal Philosophy (Springer Publishers) and has been its Book Review Editor. He is an Affiliated Professor at the University of Haifa in Haifa, Israel. He is an English barrister as well as an American lawyer; he was called to the English Bar at Lincoln's Inn and is a member of barristers' chambers at Landmark Chambers, London.
Scholarly Work
A Class Act? Social Class Affirmative Action, in A Dubious Expediency: How Race Preferences Damage Higher Education (Gail Heriot & Maimon Schwarzschild eds., Encounter Books 2021)
A Dubious Expediency: How Race Preferences Damage Higher Education (Gail Heriot & Maimon Schwarzschild eds., Encounter Books 2021)
Judicial Power and Political Questions in the United States, in Challenged Justice: In Pursuit of Judicial Independence (Shimon Shetreet, Hiram Chodosh & Eric Helland eds., Brill 2021)
Religious Exemption from Civil Laws and Free Exercise of Religion in the USA, in Law and Religion in the Liberal State (Jahid Hossain Bhuiyan & Darryn Jensen eds., Hart Publishing 2020)
Reply—and Gentle Dissent—to Michael Blake's "Democracy and Deference", 56 San Diego Law Review 929 (2019)
The Bureaucratic Takeover of Criminal Sentencing, 49 New Mexico Law Review 93 (2019)
Complicated - But Not Too Complicated: Sunset of EU Law in the UK After Brexit, 39 Cardozo Law Review 905 (2018)