Maimon Schwarzschild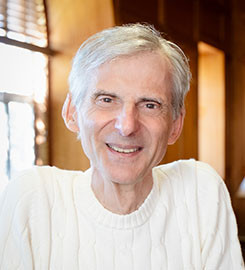 Professor of Law
JD, 1976, Columbia University
BA, 1973, Columbia University
Areas of Expertise
Religious Freedom/Separation of Church and State, Comparative Law, Federal Courts, Evidence, Constitutional Law, Public International Law, Constitutional Law and Constitutional Rights, Criminal Law and Criminal Procedure, International Law, Law and Religion
Professional Experience
Schwarzschild was an accredited journalist at the United Nations for five years, had White House press credentials during the Nixon administration, and served in the U.S. Department of Justice in Washington, D.C., during the Carter administration. He practiced law as a barrister in London and with the Chadbourne law firm in New York. Schwarzschild was a visiting professor at Hebrew University in Jerusalem and at the Sorbonne in Paris. He joined the USD School of Law faculty in 1982.
Honors and Affiliations
Schwarzschild is an English barrister as well as an American lawyer. He was called to the English Bar at Lincoln's Inn and is a member of barristers' chambers at Landmark Chambers, London.
Scholarly Work
"Judicial Independence and Judicial Hubris" in The Culture of Judicial Independence (Forsyth, and Shetreet, eds.) (Martinus Nijhof, 2012); "Constitutional Law and Equality" in A Companion to Philosophy of Law and Legal Theory, no. 2nd (Patterson, ed.) (Wiley-Blackwell, 2010); "On This Side of the Law and On That Side of the Law" in 46 San Diego Law Review 755 (2009); "The Ethics and Economics of American Legal Education Today" in 17 Journal of Contemporary Legal Issues 3 (2008); "Civil Rights and Free Speech" in Encyclopedia of American Civil Liberties (Findelman, ed.) (Routledge, 2006); and "Keeping it Private" in 25 University of Queensland Law Journal 215 (2006).
| SSRN