Lisa Ramsey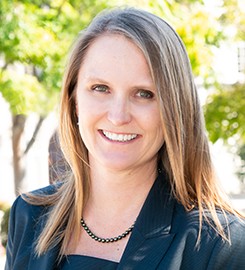 Professor of Law
JD, 1996, University of California, Los Angeles

BA, 1993, University of California, Los Angeles
Areas of Expertise
Trademark Law, Law and Technology, Intellectual Property, Comparative Law, International Intellectual Property Law
Professional Experience
Ramsey was an intellectual property litigation associate for four years at Gray Cary Ware & Freidenrich (now DLA Piper) in San Diego and was a judicial law clerk for the Honorable Rebecca Beach Smith of the U.S. District Court in the Eastern District of Virginia. She joined the USD School of Law faculty in 2004.
Honors and Affiliations
Ramsey's article, "Descriptive Trademarks and the First Amendment" in 70 Tennessee Law Review 1095 (2003), was judged by the editor of the Intellectual Property Law Review (Tripp, ed.) (West, 2004) to be one of the best intellectual property law review articles of 2003. She is a member of the Order of the Coif, the American Intellectual Property Law Association, the International Association for the Advancement of Teaching and Research in Intellectual Property, and the International Trademark Association.
Scholarly Work
"Protectable Trademark Subject Matter in Common Law Countries and the Problem with Flexibility" in The Cambridge Handbook of International and Comparative Trademark Law (Irene Calboli and Jane Ginsburg, ed.) (Cambridge University Press, 2020); "Using Failure to Function Doctrine to Protect Free Speech and Competition in Trademark Law" in 104 Iowa Law Review Online (2020); "Free Speech Challenges to Trademark Law After Matal v. Tam" in 56 Houston Law Review (2018); "Non-Traditional Trademarks and Inherently Valuable Expression" in The Protection of Non-Traditional Marks: Critical Perspectives (Irene Calboli and Martin Senftleben, ed.) (Oxford University Press, 2018); "A Free Speech Right to Trademark Protection" in 106 Trademark Reporter 797 (2016); "Reconciling Trademark Rights and Free Expression Locally and Globally" in International Intellectual Property: A Handbook of Contemporary Research p. 341 (Gervais, ed.) (Edward Elgar Publishing, 2015); "Mechanisms for Limiting Trade Mark Rights to Further Competition and Free Speech" in 44 International Review of Intellectual Property and Competition Law 671 (with Schovsbo) (2013); "Brandjacking on Social Networks: Trademark Infringement by Impersonation of Markholders" in 58 Buffalo Law Review 851 (2010); "Free Speech and International Obligations to Protect Trademarks" in 35 Yale Journal of International Law 405 (2010); "Increasing First Amendment Scrutiny of Trademark Law" in 61 Southern Methodist University Law Review 381 (2008); "First Amendment Limitations on Trademark Rights" in Intellectual Property and Information Wealth: Issues and Practices in the Digital Age (Yu, ed.) (Praeger, 2006); "Intellectual Property Rights in Advertising" in 12 Michigan Telecommunications and Technology Law Review 189 (2006); and "Descriptive Trademarks and the First Amendment" in 70 Tennessee Law Review 1095 (2003).
| SSRN