Donald Dripps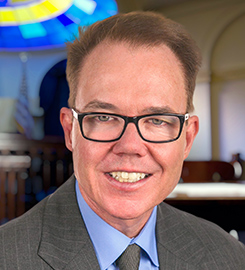 Office:
Pardee Legal Research Center 319
Warren Distinguished Professor of Law
JD, 1983, University of Michigan

BA, 1980, Northwestern University
Areas of Expertise
Federal Courts, Constitutional Interpretation, Criminal Law and Criminal Procedure, Constitutional Law, Administrative Law, Evidence
Professional Experience
Dripps clerked for the Honorable Amalya Kears of the Second Circuit Court of Appeals in New York City. He was an assistant professor at the University of Illinois College of Law, a visiting professor at Duke University School of Law, a visiting professor at Cornell University Law School and the James Annenberg Levee Professor of Criminal Procedure at the University of Minnesota Law School. He joined the USD School of Law faculty in 2004.
Honors and Affiliations
Dripps was editor-in-chief of the Michigan Law Review and is a member of the Order of the Coif.
Scholarly Work
"Does Liberal Procedure Cause Punitive Substance? Preliminary Evidence from Some Natural Experiments" in 87 Southern California Law Review 459 (2014); "'Dearest Property': Digital Evidence and the History of Private 'Papers' as Special Objects of Search and Seizure" in 103 Journal of Criminal Law and Criminology 49 (2013); Criminal Law and Procedure: Cases and Materials, no. 12th (with Boyce, and Perkins) (Foundation Press, 2013); "Why Gideon Failed: Politics and Feedback Loops in the Reform of Criminal Justice" in 70 Washington and Lee Law Review 833 (2013); "The Substance-Procedure Relationship in Criminal Law" in Philosophical Foundations of Criminal Law p.409 (Duff, and Green, eds.) (Oxford University Press, 2011); About Guilt and Innocence: The Origins, Development, and Future of Constitutional Criminal Procedure (Greenwood Press, 2003); "Criminal Procedure, Footnote Four, and the Theory of Public Choice: OR, Why don't Legislatures Give a Damn about the Rights of the Accused?" in 44 Syracuse Law Review 1079 (1993); "Beyond Rape: An Essay on the Difference Between the Presence of Force and the Absence of Consent" in 92 Columbia Law Review 1780 (1992); and "Living with Leon" in 95 Yale Law Journal 906 (1986).
| SSRN