Donald Dripps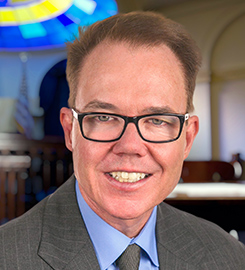 Office:
Pardee Legal Research Center 319
Warren Distinguished Professor of Law
JD, 1983, University of Michigan

BA, 1980, Northwestern University
Areas of Expertise
Federal Courts, Constitutional Interpretation, Criminal Law and Criminal Procedure, Constitutional Law, Administrative Law, Evidence
Professional Experience
Dripps clerked for the Honorable Amalya Kears of the Second Circuit Court of Appeals in New York City. He was an assistant professor at the University of Illinois College of Law, a visiting professor at Duke University School of Law, a visiting professor at Cornell University Law School and the James Annenberg Levee Professor of Criminal Procedure at the University of Minnesota Law School. He joined the USD School of Law faculty in 2004.
Honors and Affiliations
Dripps was editor-in-chief of the Michigan Law Review and is a member of the Order of the Coif.
Scholarly Work
Criminal Law and Procedure: Cases and Materials (14th ed., Foundation Press 2021) (with Boyce & Perkins)
Criminal Procedure: Rights and Remedies in Police Investigations (West Academic 2020)
Due Process Overbreadth? The Void for Vagueness Doctrine, Fundamental Rights, and the Brewing Storm over Undefined Consent in Sexual Assault Statutes, 73 Oklahoma Law Review 121 (2020)
Why Rape Should be a Federal Crime, 60 William & Mary Law Review 1685 (2019)
Due Process: A Unified Understanding, in Cambridge Companion to the Constitution (Karren Orren & John Compton eds., Cambridge University Press 2018)
Miranda for the Next Fifty Years: Why the Fifth Amendment Should Go Fourth, 97 Boston University Law Review 893 (2017)
"Perspectives on the Fourth Amendment" Forty Years Later: Toward an Inclusive Regulatory Model, 100 Minnesota Law Review 1885 (2016)
Guilt, Innocence, and Due Process of Plea Bargaining, 57 William & Mary Law Review 1343 (2016)
| SSRN