Shaun Martin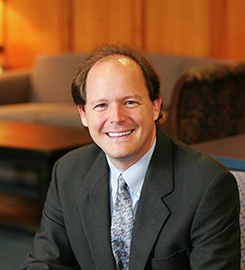 Professor of Law
JD, 1991, Harvard University

AB, 1988, Dartmouth College
Areas of Expertise
Professional Responsibility, Civil Procedure, Evidence, Legal Ethics, Alternative Dispute Resolution, Mortgage Securitization, Civil Litigation
Professional Experience
Martin clerked for the U.S. Court of Appeals Ninth Circuit and practiced law at Quinn, Emanuel, Urquhart & Oliver in Los Angeles. He joined the USD School of Law faculty in 1995.
Honors and Affiliations
Martin graduated magna cum laude from Harvard Law School, where he served as an editor of the Harvard Law Review and as a general editor of Harvard University's Civil Rights–Civil Liberties Law Review and received the Sears Prize. He was USD's Herzog Endowed Scholar in 2007 and received USD's Thorsnes Prize for Excellence in Teaching in 1999 and 2006. Martin was appointed by the State Bar of California to serve on the Committee on Professional Responsibility and Conduct and by the United States Court of Appeals for the Ninth Circuit to serve on its Advisory Rules Committee.
Scholarly Work
"Substitution" in 73 Tennessee Law Review 545 (2007); "Encumbered Shares" in 2005 Illinois Law Review 775 (with Partnoy) (2005); and "Intracorporate Conspiracies" in 50 Stanford Law Review 399 (1998).
| SSRN