Jean Ramirez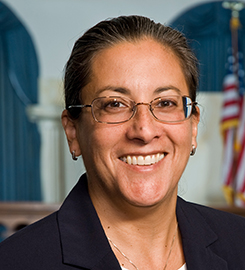 Professor of Law
JD 1985, University of California, Los Angeles

AB 1982, Princeton University
Areas of Expertise
Evidence, Criminal Law and Criminal Procedure
Professional Experience
Ramirez was an associate with Irell & Manella in Los Angeles and a deputy public defender with the Los Angeles County Public Defender's Office. She spent an early sabbatical leave interning at the Family Protection Unit of the San Diego District Attorney's Office. In recent years she has engaged in pro bono post conviction work. Ramirez's current projects include developing trial videos for use in criminal law and evidence classes. She joined the USD School of Law faculty in 1990.
Honors and Affiliations
Ramirez was the 2013-14 recipient of USD's Thorsnes Prize for Excellence in Teaching. She has served on the board of directors of Appellate Defenders, Inc. and Federal Defenders of San Diego, Inc. since 2002. She was the board president from 2006-09.
Scholarly Work
Criminal Litigation in Action, no. 3rd (with Berend) (Carolina Academic Press, forthcoming 2015); Criminal Litigation In Action, no. 2nd (with Berend) (California Academic Press, 2002); and State v. Johnson: An Acquaintance Rape Case File and Problem Set (National Institute for Trial Advocacy Publishing, 2000).