Roy L. Brooks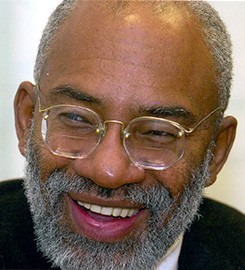 Warren Distinguished Professor of Law, University Professor,
JD, 1975, Yale University

BA, 1972, University of Connecticut
Areas of Expertise
Civil Procedure, Civil Rights, International Human Rights, Employment and Labor Law, Employment Discrimination, Federal Courts, Jurisprudence and Legal Theory, Public Interest/Public Law and Regulation, Race and Gender Identity
Professional Experience
Brooks served as a senior editor of the Yale Law Journal, clerked for the Honorable Clifford Scott Green of the U.S. District Court in Philadelphia, and practiced corporate law with Cravath, Swaine & Moore in New York City. He joined the USD School of Law faculty in 1979.
Professor Brooks teaches and writes in the areas of legal and critical theory, civil procedure, civil rights, employment discrimination, and international human rights.
Honors and Affiliations
Brooks is a member of the American Law Institute and the Authors Guild. He has received national book awards including the Gustavus Myers Outstanding Book Award (twice) and the Brandeis University Library Learned Research Journal Award. He received the Thorsnes Prize for Excellence in Scholarship (twice) and the Thorsnes Prize for Excellence in Teaching (twice). Brooks was named a USD University Professor in 2005 and 2018.
Scholarly Work
The Racial Glass Ceiling (Yale University Press, 2017); Structures of Judicial Decision Making from Legal Formalism to Critical Theory, no. Rev. 2nd (Carolina Academic Press, 2012); The Law of Discrimination: Cases and Perspectives (with Carrassco, and Selmi) (Lexis Nexis, 2011); Racial Justice in the Age of Obama (Princeton University Press, 2009); Atonement and Forgiveness: A New Model for Black Reparations (University of California Press, 2004); When Sorry Isn't Enough: The Controversy Over Apologies and Reparations for Human Injustice (New York University Press, 1999); Critical Procedure (Carolina Academic Press, 1998); and Integration or Separation? A Strategy for Racial Equality (Harvard University Press, 1996).