Joseph Kaatz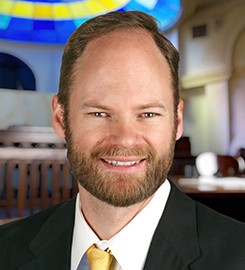 Phone:
(619) 260-4600 ext. 2870
Office:
Pardee Legal Research Center L21
Staff Attorney, Energy Law and Policy Clinic Supervisor, Adjunct Law Professor
JD, 2011, University of San Diego

BA, 2006, Pepperdine University
Joseph Kaatz serves as the staff attorney at the Energy Policy Initiatives Center (EPIC) at USD School of Law. Kaatz's work has focused on regulatory and policy issues related to energy including renewable energy generation, storage, transmission, land use, the effects of federal and state statutes on state agency jurisdiction, energy related finance mechanisms, and energy efficiency. Kaatz also supervises the Energy Law and Policy Clinic.
Kaatz has authored or co-authored several reports related to energy policy. Recent projects include developing reports to identify and implement best practices in permitting, zoning, interconnection, and finance in support of the Department of Energy's SunShot program to decrease the soft costs of rooftop solar across California. Kaatz was lead author of the first comprehensive report on Property Assessed Clean Energy Programs (PACE) for residential and commercial properties in California and currently advises the City of Chula Vista on the creation of its PACE program.
Prior to joining EPIC, Kaatz worked in land use, construction management, and the prosecution of complex anti-trust, consumer class-actions, and mass tort litigation. He holds a JD from the University of San Diego School of Law, with a concentration in public interest law and an emphasis in environmental and consumer law, and a BA in history from Pepperdine University. Kaatz is licensed to practice law in California and Colorado.