Robert Schapiro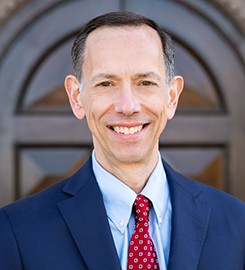 Dean and C. Hugh Friedman Professor of Law
JD, 1990, Yale University

MA,1986, Stanford University

BA, 1984, Yale College

Areas of Expertise
Dean Schapiro teaches in the areas of Civil Procedure, Constitutional Law, Federal Courts, Legislation and Regulation.
Professional Experience
Dean Schapiro joined USD School of Law in January 2021. Previously, he was Dean of Emory University School of Law (2012-2017), and Asa Griggs Candler Professor of Law and Co-Director of Emory School of Law's Center on Federalism and Intersystemic Governance. Before becoming Dean at Emory, he served as associate vice provost for academic affairs, associate dean of faculty for the law school, and associate faculty director for Emory's Halle Institute for Global Learning.
Dean Schapiro is an internationally recognized scholar of federalism. A graduate of Yale Law School, he served as editor-in-chief of the Yale Law Journal. He clerked for Justice John Paul Stevens of the U.S. Supreme Court and for Judge Pierre N. Leval of the U.S. District Court for the Southern District of New York.
Honors and Affiliations
Dean Schapiro has received numerous awards, including the Emory Williams Distinguished Teaching Award for excellence in graduate education, the Ben F. Johnson Faculty Excellence Award, Most Outstanding Professor from the Emory Student Bar Association, and Professor of the Year from the Emory Law School Black Law Students Association.
Scholarly Work