​LLM in International Law
Key Program Features
The LLM in International Law is a professional development degree that allows graduates of U.S. law schools to further develop their knowledge and expertise in the area of international law. With the growing global economy, studying international law in a dynamic, multi-cultural city that is home to the busiest land and port entry in the world is a unique opportunity for U.S. attorneys. 
Ideal candidates have significant flexibility to create a course of study that focuses on their particular areas of interest within the field of international law
Available courses highlight practical as well as theoretical knowledge, and focus on a wide range of subjects that impact legal transactions in the U.S. and around the world
Candidates for this degree have the opportunity to study side by side with the attorneys, judges and government officials from around the world who are enrolled in our LLM programs
Events sponsored by USD's Ahlers Center for International Business and Joan B. Kroc Institute for Peace and Justice provide additional opportunities to enhance classroom learning
LLM in International Law students may petition to participate in the university-sponsored study abroad programs. Subject to prior approval, courses taken abroad through the university-sponsored study abroad programs may also be credited toward the LLM in International Law degree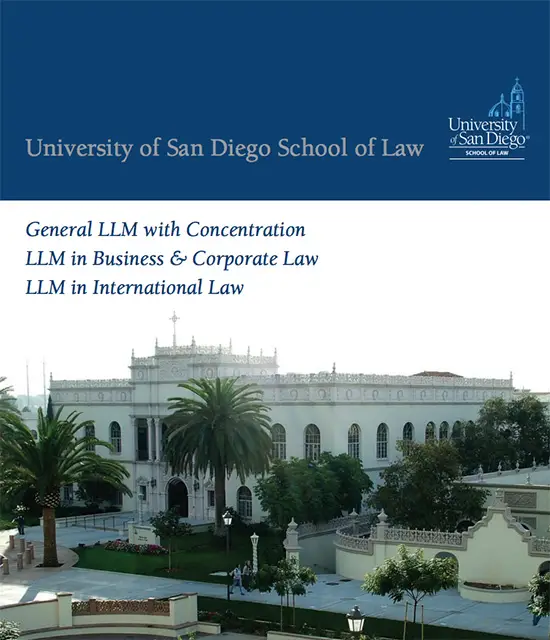 Program Timeline
Students may begin the program in the Fall, Spring or Summer term (Summer option is only for part-time applicants)
Candidates may complete the degree requirements in as little as 1 year, or may take up to 4 years
Full-time (9 or more credits) and part-time (8 or fewer credits) options are available
Many courses are offered in the day as well as evening
Degree Requirements
A candidate for this LLM degree must successfully complete 24 credit hours of appropriate coursework
Required courses: Public International Law and International Business Transactions
4 of the 24 credits must fulfill a written work requirement, which may be satisfied by a minimum of two research papers in the area of international law
15 of the 24 credits must come from approved elective courses in the area of International Law
Remaining credits may be chosen from our elective offerings
Full details of the degree requirements may be found in the School of Law Academic Rules in the Student Handbook
Approved Elective Offerings
Visit the course descriptions page for examples of current and recently offered courses that are eligible for approved elective credit in the LLM in International Law program
LLM Tuition, Fees and Scholarships
Please visit our Financial Aid website for tuition, fee and scholarship information
Career Advancement
Candidates work closely with the Director to design a program that fulfills not only the degree requirements, but also the attorney's professional goals
The Office of Career and Professional Development offers individualized career counseling appointments, as well as many other resources ranging from networking events to information about specific job opportunities
Alumni of this program practice in numerous areas, including international business law, immigration law and human rights law, as well as with governments and non-profit organizations
International Applicants - PLEASE NOTE!
See Also