Mary Jo Wiggins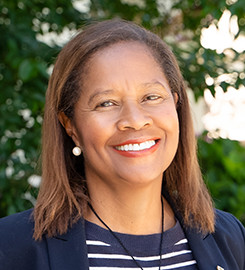 Professor of Law and Herzog Endowed Scholar
JD, 1987, University of Michigan

BA, 1984, Smith College
Areas of Expertise
Real Property and Real Estate Transactions, Jurisprudence and Legal Theory, Land Use Planning, Debtor/Creditor Law, Commercial Transactions, Business and Corporate Law, Bankruptcy, Property
Professional Experience
Wiggins practiced bankruptcy law and commercial law with the firm of Ice, Miller, Donadio & Ryan. In 1998, United States Supreme Court Chief Justice William H. Rehnquist appointed Wiggins to the United States Judicial Conference Advisory Committee on the Federal Rules of Bankruptcy Procedure, where she served two consecutive terms. She served as an expert consultant for two RAND Corporation studies involving the operation of the U.S. bankruptcy system. Wiggins has consulted with private and public entities on bankruptcy and insolvency matters. She joined the USD School of Law faculty in 1990. Wiggins was named associate dean for academic affairs in 2006 and was promoted to vice dean in 2011.
Honors and Affiliations
Wiggins was notes editor of the Michigan Law Review. In 2007, she was named one of San Diego's Top Attorneys by the San Diego Daily Transcript. During the 2009-10 academic year, Wiggins was named the Class of 1975 Endowed Professor, an award recognizing meritorious teaching, leadership and academic accomplishments as a professor at the USD School of Law. She is a faculty member of the America Board of Certification for Business and Consumer Bankruptcy and is an elected member of the American Law Institute. Wiggins was named a Herzog Endowed Scholar in 1997-98. This award recognizes meritorious teaching and scholarly productivity as a member of the faculty of the USD School of Law. In 1995, she was named a "Woman of Vision in the Law" by the San Diego Chapter of the League of Women Voters. Wiggins was named a University Professor in 2016-17, the highest university faculty award, and she also received the Thorsnes Prize for Excellence in Teaching in 2020. She has again been named a Herzog Endowed Scholar for the 2020-21 academic year.
Scholarly Work
"Access Anxiety" in 54 Real Property Trust and Estate Law Journal (2019); Questions & Answers: Bankruptcy, no. 2nd (Carolina Academic Press, 2019); "Restrictions on Debt Relief Agencies" in Collier on Bankruptcy, no. 16th (Resnick, and Sommer, eds.) (Lexis Nexis, 2015); "The Political Economy of the $26 Billion Dollar Mortgage Settlement" in 41 Western State University Law Review (2013); "Conservative Economics and Optimal Consumer Bankruptcy Policy" in 7 Theoretical Inquiries in Law 347 (2006); "Finance and Factionalism: The Uneasy Present (and Future) of Special Interest Committees in Corporate Reorganization Law" in 41 San Diego Law Review 1373 (2004); and "Race, Class, and Suburbia: The Modern Black Suburb as a Race-Making Situation" in 35 University of Michigan Journal of Law Reform 749 (2002).