Dov Fox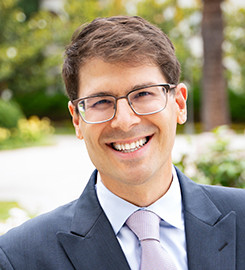 Herzog Endowed Scholar, Professor of Law; Director, Center for Health Law Policy & Bioethics
LLM, 2013, Georgetown University Law Center

JD, 2010, Yale Law School

DPhil, 2007, Oxford University

AB, 2004, Harvard College
Areas of Expertise
Professor Fox teaches and writes in the areas of criminal law and procedure, health law and bioethics, and the regulation of technology.
Professional Experience
Fox served as a law clerk to the Honorable Stephen Reinhardt of the U.S. Court of Appeals for the Ninth Circuit. He has also worked at the law firm of Wachtell, Lipton, Rosen & Katz; the consulting firm of McKinsey & Company; and the Civil Appellate Staff at the U.S. Department of Justice. Fox is a regular columnist for The Huffington Post and contributor to the Bill of Health blog. He serves on advisory boards of the Appellate Defenders, American Constitution Society, and Illumina Genomics. Fox works on National Institutes of Health grants on topics in genomic privacy, translational medicine, and biomedical research ethics. His work has been featured in The New York Times, Washington Post, CNN, NPR, Slate, Today Show, and Vice News.
Honors and Affiliations
Fox was awarded a Rhodes Scholarship to attend Oxford University, where he earned his doctorate in political theory and served as lecturer in politics and philosophy. He received a Soros Fellowship for New Americans to Yale Law School, where he was projects editor of the Yale Law Journal, twice recognized for teaching excellence, and all three years awarded the prize for best paper in law and science. In 2017, Fox was selected as a Life Science Catalyst Award winner for "significant contributions to human health through research, discovery, and entrepreneurship." His latest book, forthcoming with Oxford University Press (2019), is "Birth Rights and Wrongs."
Scholarly Work
"Making Things Right When Reproductive Medicine Goes Wrong: Reply to Robert Rabin, Carol Sanger, and Gregory Keating" in 118 Columbia Law Review 94 (2018); "Privatizing Procreative Liberty in the Shadows of Eugenics " in 5 J. Law BIOSCL 355 (2018); "Reproductive Negligence" in 117 Columbia Law Review 149 (2017); "Constitutional Retroactivity in Criminal Procedure" in 91 Washington Law Review 463 (with Stein) (2016); "Religion and the Unborn under the First Amendment" in Law, Religion, and Health in America (2016); "Selective Procreation in Public and Private Law" in 64 UCLA Law Review 294 (2016); "Dualism and Doctrine" in 90 Indiana Law Journal 975 (with Stein) (2015); "Race Sorting in Family Formation" in 49 Family Law Quarterly 57 (2015); "The State's Interest in Potential Life" in 43 Journal of Law, Medicine and Ethics 345 (2015); and "Interest Creep" in 82 George Washington Law Review 273 (2014).
| SSRN