Mila Sohoni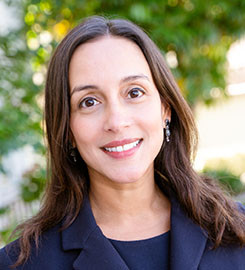 Associate Dean of Faculty; Herzog Research Professor Law
JD, 2005, Harvard Law School

MPhil, 2000, Cambridge University

AB, 1999, Harvard College
Professional Experience
Sohoni served as a law clerk to the Honorable Judith W. Rogers of the U.S. Court of Appeals for the District of Columbia Circuit. She practiced law at Jenner & Block LLP in New York and Washington, DC and was an acting assistant professor of lawyering at New York University School of Law. She joined the USD School of Law faculty in 2013. Before attending law school, Sohoni spent two years as a correspondent for The Economist magazine in New York and in London.
In 2018, Sohoni was a visiting professor at the University of Pennsylvania Law School and at the Harvard Law School.
Professor Sohoni teaches and writes in the areas of civil procedure, administrative law, federal courts, legislation and health law.
Honors and Affiliations
Sohoni graduated cum laude from Harvard Law School, where she served as book reviews chair and an articles committee member for the Harvard Law Review. She was a Rotary Foundation Ambassadorial Scholar at Cambridge University, where she received her MPhil with distinction (first class) in the history and philosophy of science. She graduated magna cum laude from Harvard College with a degree in chemistry. 
Sohoni's article 'Lost History' was a co-winner of the American Constitution Society's 2020 Richard D. Cudahy Writing Competition on Regulatory and Administrative Law. Sohoni's article 'Crackdowns' received the honorable mention in the 2017 Scholarly Papers Competition sponsored by the Association of American Law Schools (AALS) and was also awarded the AALS Section on Criminal Justice's Junior Scholar Award for 2017. Sohoni's article 'The Power to Privilege' was selected for presentation at the 2014 Harvard/Stanford/Yale Junior Faculty Forum.
Sohoni was appointed a Public Member of the Administrative Conference of the United States (ACUS) in 2022. She served as the Chair of the AALS Section on Administrative Law in 2022-2023, and she is a contributor to the Administrative Law section of JOTWELL.
In 2018, Sohoni was awarded the Thorsnes Prize for Excellence in Teaching. In 2023, she was a co-winner of the Thorsnes Prize for Excellence in Teaching.
In 2019, she was named the Herzog Endowed Scholar for excellence in scholarship and teaching.
In 2021-2022, she was awarded a University Professorship for outstanding contributions in teaching and research.
Scholarly Work