Michael Ramsey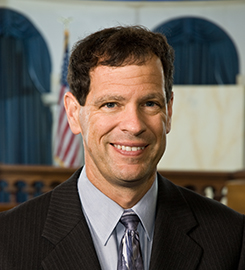 Hugh and Hazel Darling Foundation, Professor of Law; Director, International & Comparative Law Programs
JD 1989, Stanford Law School

AB (History and Economics) 1986, Dartmouth College
Areas of Expertise
Constitutional Law, International Business Transactions, Foreign Relations Law, Federal Courts, International Civil Litigation, and Constitutional Interpretation. His scholarship focuses on the constitutional and international law aspects of U.S. foreign relations, particularly in the areas of war powers, treaties, and presidential authority, as well as on the litigation of transnational claims in U.S. courts.
Professional Experience
Professor Ramsey clerked for Judge J. Clifford Wallace of the U.S. Court of Appeals for the Ninth Circuit and for Justice Antonin Scalia of the U.S. Supreme Court. He practiced international business law with the firm of Latham & Watkins before joining the USD School of Law faculty in 1995. Professor Ramsey has taught as a visiting professor at the University of California San Diego (department of political science) and the University of Paris-Sorbonne (department of comparative law) and has lectured in Australia, Denmark, the Republic of Korea, Kuwait, Mexico and South Africa.
Honors and Affiliations
Professor Ramsey has received USD School of Law's Thorsnes Prizes for Excellence in Teaching and for Outstanding Scholarship and has been named Herzog Endowed Scholar and University Professor. He was twice named among San Diego's outstanding attorneys (academic category). His book International Law in the U.S. Supreme Court: Continuity and Change (co-edited with David L. Sloss and William S. Dodge) received the American Society of International Law's Certificate of Merit as a "work of great distinction" in 2012, and he was listed among the nation's most cited scholars in the international law and national security field for the period 2013-2018. He is a member of the California State Bar, the U.S. Supreme Court Bar, and the American Society of International Law.
Scholarly Work
"Congress's Limited Power to Enforce Treaties" in 90 Notre Dame Law Review 1539 (2015); International Law in the U.S. Supreme Court (Sloss, Ramsey, and Dodge, eds.) (Cambridge University Press, 2011); The Constitution's Text in Foreign Affairs (Harvard University Press, 2007); "Textualism and War Powers" in 69 Chicago Law Review (2002); and "The Executive Power over Foreign Affairs" in 111 Yale Law Journal 231 (with Prakash) (2001).