Welcome to the Jenny Craig Pavilion at the University of San Diego. This multi-million dollar complex contains a multi-functional arena with state-of-the-art sound, lighting and concert quality acoustics. The University of San Diego is located on 180 acres overlooking Mission Bay, San Diego Harbor and the Pacific Ocean. The campus is just 10 minutes from San Diego International Airport and Downtown.
At the Jenny Craig Pavilion, flexibility is the key to hosting a successful event. With the use of retractable seating, protective floor covering and dimmable lighting nearly any event is possible. An intimate meeting, a trade show or even a concert with 5,500 guests, every event receives the highest quality of professional service. First class amenities include three locker rooms, two dressing rooms, production office space, a trainer's room, green room and a hospitality suite with an adjacent kitchen. One Centralized Main Entrance to the arena provides easy access for patrons to enjoy all that the Jenny Craig Pavilion has to offer.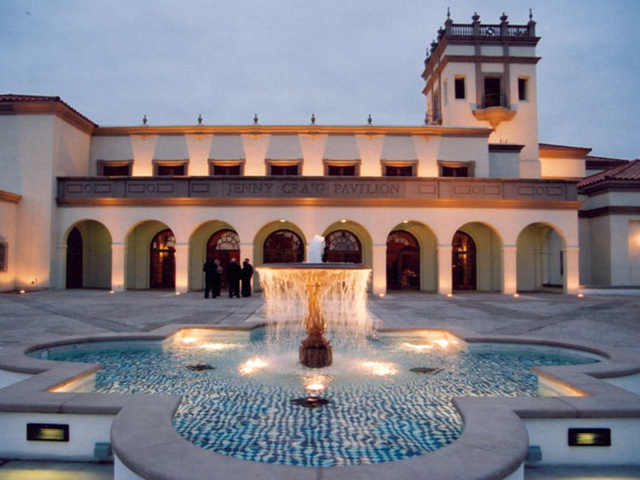 The Jenny Craig Pavilion is ideally suited for sports events, tradeshows, and concerts. In November, 2000, we opened the pavilion with The Wallflowers and Everlast. The Pavilion has had the pleasure of hosting corporate events for Union Bank and the San Diego Union Tribune. The Jenny Craig Pavilion has been the site of many impressive sporting events including: The 2001, 2002, and 2003 West Coast Conference Basketball Championships, the 2003 NFL Celebrity Basketball Game, the Official Super Bowl XXXVII Luncheon, and the 2004 Judo National Championships.
For more information regarding the Jenny Craig Pavilion, please contact:
Branda Cook
Assistant Director of Athletics
Phone: (619) 260-7565
Email: bcook@sandiego.edu
Special Event Rental Spaces
JCP Warren Hospitality Suite
A premier dining facility overlooking the basketball arena as well as the plaza and the football stadium. Has a great view of Mission Bay and the Pacific Ocean. Beautiful antique furniture from the 16th and 17th centuries. The reception room is perfect for morning breakfast meeting or a team-building meeting. Ideal for reception, luncheons, cocktail parties or fine dining. Food services are requirement for this room.
Specifications:
1,000 sq. ft.
Capacity: 124 depending on the set-up.
Ceiling: 14 ft.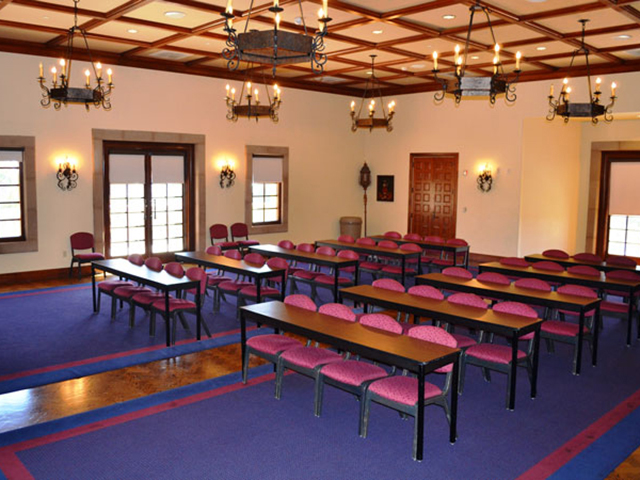 JCP Foyer
A crown jewel of special event space. This large space in the JCP Foyer with 2,500 sq. ft. and ceiling height of 25' is a great location for business and social events. From press conference to reception to dinners the foyer can accommodate up to 250 guests. The beautiful chandeliers and wall sconces set the mood for any VIP event.
Specifications:
3,000 sq. ft.
Capacity: 250 depending on the set-up.
Ceiling: 25 ft.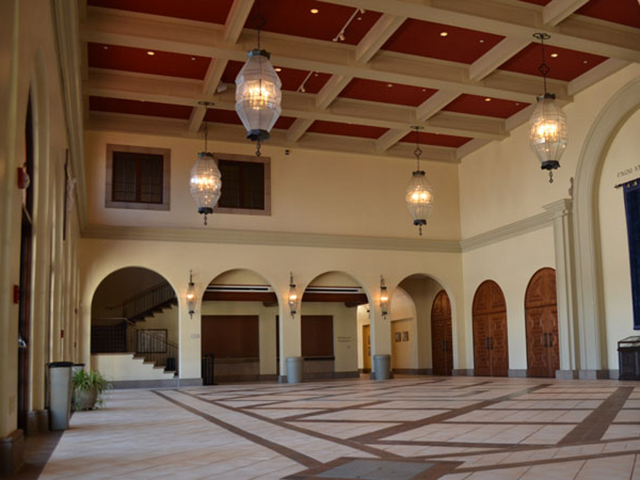 Eagen Plaza
A great setting if you are looking to have your event held outside. The Plaza features 8 palm trees, fountains and a great view of Mission Bay. You could hold an event on the Plaza for about 1000 people. A portable, outdoor PA system is available for your event.
Specifications:
10,000 sq. ft.
Capacity: 1,000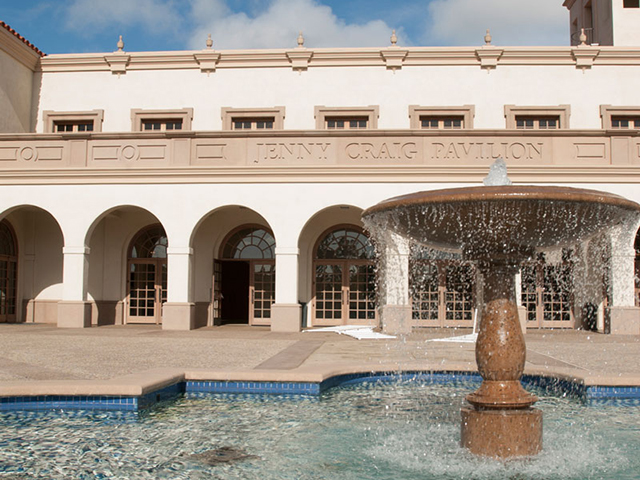 Arena
A great setting for a large event, the arena includes over 19,000 sq. ft. of floor space, which can be used for concerts, tradeshows and speaking engagements. Includes a state-of-the-art in house sound system and video and message boards.
Specifications:
19,869 sq. ft.
Capacity: 5,500
Ceiling: 55 ft.
Reservations
To reserve space, please call Branda Cook, Assistant Director of Athletics, at (619) 260-7565, email: bcook@sandiego.edu